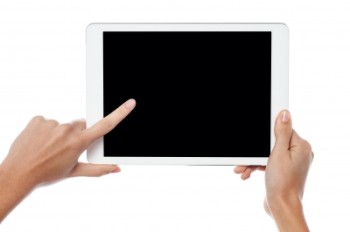 Technology is making the business world a better place, which translates to better business for companies and consumers.
Whether your business needs a little tech boost or some on the go gadgets for traveling employees, there are plenty of options to choose from.
With a tech-fueled business in mind, here are just a few ways tech products make your business better:
Tablets for Employees on the Floor
Most customers who are on a shopping mission like to find what they want, purchase it, and move on with their day. This means your sales team needs to have your business's entire inventory in the palm of their hands.
The solution: tablets.
That's right, tablets are becoming increasingly popular for employees who need to look up prices, search in-stock items, and locate specific items within your store.
Even if your business doesn't deal in retail, tablets are a great way to keep all the employees in your office connected. Whether on lunch break, in a meeting, or across the hall, tablets allow your employees to take their work with them on the go.
Anywhere Payments
Technology is also improving the payment process for many businesses.
Mobile card swipes connected to smartphones and tablets allow your business to accept credit card payments from anywhere. This not only boosts sales, it also makes shopping more convenient for your customers.
Employee Mobility
If your employees take advantage of telecommuting, then technology can help your remote employees stay better connected to your business. The same goes with employees who travel to clients throughout the day.
From employees who make service calls to employees who work from home a few days a week, major retailers like Walmart carry a full line of smartphones like the Samsung Galaxy 5 that will improve your business's telecommuting atmosphere.
Technology and Customer Service
It's no surprise that technology is improving the customer service sector for businesses of all kinds.
For example, call-waiting technology is making the calling process more customer-friendly and less frustrating.
Call waiting services used to simply ask callers to wait on the line until a representative could take their call.
With intuitive call waiting, your business's call waiting service can actually give customers updates on how many minutes they have left to wait for a representative.
In addition, improved call-waiting technology can actually give your customers the option to have a representative call them back in a timely manner. Intuitive call waiting is just one way technology makes life better for your customers and your business.
Business Apps
Computer technology is improving the business world by digital leaps and bounds.
Such is the case with mobile apps that put your business in the spotlight. With a mobile app specifically designed for your business, you can keep your customers informed on your products and services, send shipping and package notifications, and accept payments for online merchandise.
If you're looking for ways to improve your business in 2015, the technology above is sure to make a positive impact.
Photo credit: Image courtesy of stockimages at FreeDigitalPhotos.net
About the Author: Adam Groff is a freelance writer and creator of content. He writes on a variety of topics including technology and small business.