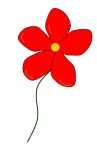 I've been reading about the history of Memorial Day, before it became about blow-out sales and backyard bar-b-ques.
And the words I've found take me back to when my mom still called it "Decoration Day." She'd buy a paper poppy from the man at the VFW to put in the button hole of my coat. Then she'd take me with her to put flowers on the graves of those we love who lay sleeping while we could still stand, reflect, kneel to say, "thank you."
Memorial Day is about gratitude, reconciliation, and honoring heroes who paid the ultimate price. They gave and we got.
Rebranding Memorial Day
In his series for Fast Company, Steve McCallion says:
So far we've explored how Memorial Day lost its meaning, but how can we get it back? How can we remember Memorial Day in a way that is authentic and relevant today? In this era of instant gratification, can we come together as a nation to recognize the sacrifices that have been made for our freedoms?
Click through on the image for his marvelous ideas on how to rebrand to remind us what Memorial Day means.
A Dozen $100,000 Brand Ideas for Celebrating Our Heroes Through Social Media
Social media is about honoring our heroes and connecting people, isn't it? If anyone knows how to do that we do … big companies, little companies, individuals don't need to do much to put the celebrating and gratitude back into remembering those who sacrificed for our freedom.
Here are a few ideas …
What would the companies and brands get? They'd get the respect and loyalty of employees and customers who honor our heroes. People remember generosity that connects them to authentic, relevant meaning.
Any nation that does not honor its heroes will not long endure. – Abraham Lincoln
Isn't that also true of our businesses?
I know you probably see a thousand ways to expand on each of these ideas — ways that each could be tweaked or twisted to fit another business. Take 'em and use 'em. I'd love to hear how you might re-invent an idea or what new ideas came to mind while you were reading.
How will you remember our heroes?
–ME "Liz" Strauss
Work with Liz on your business!!
I'm a proud affiliate of