A Symphony in My Head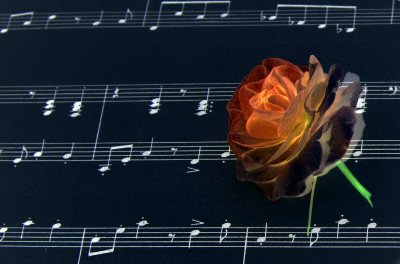 There's a song in my head.
I heard it first quiet in the night at my computer.
Then it came again when I woke.
It never really left me.
It began … looping in and out of days … over two years ago.
I considered it an insignificant melody,
a memory tracing, some forgotten top-40 wonder.
Until I asked … until I tried … until I found …
no one, not anyone, could
recognize it, identify it … hum along,
then I knew.
It was mine.
Not a song, but a score.
When I claimed it, it grew
louder, broader, deeper.
It transformed into a symphony, with horns, woodwinds and strings.
I hear the most delicate and the most booming percussion
with a triangle and an ever-changing, but not-so-different drum.
Yet a symphony in a person's head is hardly an idea.
It's colors and rhythms that move hands and words.
(maybe feet when it's certain no one's looking.)
It's still a thought.
To be a symphony it needs
a composer to score it
an orchestra to express it
an audience to participate and receive it …
and a conductor who understands
the music, the instruments, the players, the audience,
and the meaning of intentional serendipity.
A symphony takes breathing and doing
and more than one human being.
A symphony is expertise, artistry, community, and trust made real.
NOTE: When the symphony is playing, I might add room for a little thinking
about possible choreography for occasions when no one's looking …
or even those when they are.
It's true I have a symphony in my head. It started as we planned SOBCon07.
And it's still playing louder, longer, stronger as we plan SOBCon again.
It has me thinking about the phrase "conducting business." Somewhere inside that phrase is the idea of turning leadership from one to many. A conductor leaves space for the expertise and decisions of the players who know their instruments. Likewise in business, a leader steps back to let many people and their relationships — clients, developers, buyers, sellers, teachers, learners — come together in the best ways. Leaders produce something bigger any one person.
Maybe that's why that symphony started playing right before SOBCon.
To build the conference, we knew we had to give ourselves over to the people who would be there. We had to step back and leave room for the many relationships — speakers, attendees, sponsors, signers, site managers, bartenders — that come together in the best ways to produce something bigger any one person. We designed it so that attendees would have as much time to talk each other about the ideas — as they did listening to the speakers. We trusted that every person in the room would bring expertise.
People who knew the value of working together were the ones who came to sit at our tables.
The first year we became "an awesome event." The second year, we began teaming up together. We talked about and tackled real problems. We're partners, teammates, and coauthors. We've entered joint ventures. After we left, we still call each other for support and advice. We still meet, talk, and Twitter. This year we're coming back with more to offer to each other and every person who joins us. We only have one rule: Be Nice. But we also like it if you're serious and you come with trust.
And I personally plan to bring more than anyone else in there — including my dearest friends, Mr. Starbucker, Ms. VanFossen, Ms. Piersall , Mr. Clark , Mr. Smith, Mr. Solis, Mr. Bullock, or even my poptart partner Mr. Brogan.
I'm also bringing a special guest … who said he'd help me.
Don't worry, it's a fabulously GOOD secret.
Because a symphony is a challenge to bring all that we are. And I plan to be playing with every bit of my head, heart, and purpose.
Every great event, every true community, every well-run business is a symphony, isn't it?
Ever been to the symphony? Every played in an orchestra? Ever done anything like that? Are you part of something bigger than yourself?
–ME "Liz" Strauss
Work with Liz!!