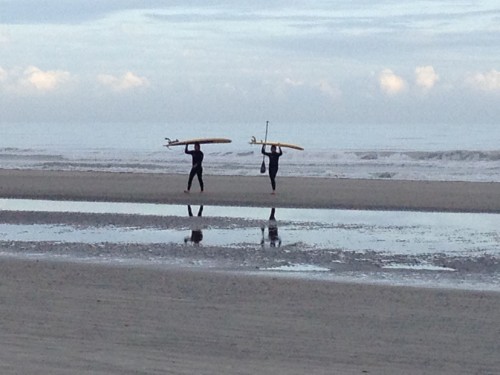 Remember surfing? That was how we used to discover interesting things on the web 10 years ago (and waste prodigious amounts of time).
But was that time really wasted? I'm beginning to think not.
Over time, we've all become much more accustomed to using the Internet as a tool. Go to Amazon to buy something. Look up something on Wikipedia. Post a blog. Update your business website.
Even if you visit Cheezburger, you probably do a quick furtive hit.
And our definitions have changed, too.
People used to spend more time in unfocused crashing around the web, going from link to link based on what looked interesting. Now, with all of the fantastic apps, social networks, and notifications, the web is a means to an end, rather than a pastime.
This statistic I saw recently really hit me hard–for the first time ever, Forrester found a decline in the number of people "using the Internet." That's not because people aren't using the Internet, it's because people no longer include surfing in their definition of "using the Internet."
Here's the thing: the creative spaces in between working are often where the action and inspiration happens.
Don't spend all day reading your friends' Facebook timelines, but this week, give yourself some totally unstructured time to surf again. You might find content ideas, topics to discuss, innovative products, or something completely unexpected.
3 Awesome Surfing Tools to Get You Started
Brain Pickings – This newsletter and website are a goldmine of inspiration and random thought-provoking ideas.
The "I'm feeling lucky" button on Google – When was the last time you clicked this button?
StumbleUpon – It's been around for a while now, but sometimes people get so focused on getting "Stumbled" that they forget you can also randomly "Stumble" around. Do it by interest area, or in general, and see where you land. This can also be good for finding new blogs to read (fresh inspiration).
Do you still surf? What tools do you use?