What Is This bing Thing?
bing arrived on my radar with an email that said …
In August, Bing shopping and cashback will offer significantly higher rebates from hundreds of retailers to help consumers save on essential back-to-school items. Below please find a press release that highlights the survey [and] information on Bing shopping's upcoming back-to-school promotion. Also, watch for more information about the promotion on the Bing cashback Facebook page: www.facebook.com/cashback .
I accepted an invitation to talk with Melissa Powell, Senior Product Manager, bing, about the recent research and the the new "decision" engine.
How Does bing Help My Decisions?

The first thing Melissa said was, "The search interface hasn't kept up with the explosion of content." In response to that situation Microsoft wanted to cater to what people are doing online and where they are searching for it.
bing has identified four verticals as important: making a purchase decision, planning a trip, researching a health condition or finding a local business. For example, in travel bing has several interactive tools to help travelers. They include …
Price Predictor uses Farecast technology to predict whether the price of a flight is going up or down and offers a "Buy Now" or "Wait" recommendation with a confidence level and expected price increase or decrease over the next seven days.
Rate Indicator analyzes historical rate data to determine whether the current price is a good deal.
Travel Deals features up-to-the-minute flight and hotel deals for nearly 40 cities around the world and why particular flights are considered deals.
Melissa underscored the bing quest by stating …
Bing helps you make better decisions faster, especially in the key areas of shopping, travel, health and local. One of my favorite features is Bing shopping, which helps you search, shop and save in a snap. With back-to-school just around the corner, you can save on millions of products from hundreds of the nation's top retailers. Starting August 10 and for a limited time, we'll offer as much as double the normal cash back from select retailers to help families save on their back-to-school essentials.
Research Before I Decide …
You can't miss the beautiful design of the homepage the changes daily and becoming a member of bing has perks — open a bing cashback account, get bing news alerts, add bing map collections, and gain full access to the bing Webmaster Center and the bing Developer Center.
I signed up. Well, I started to, but I don't have an MSN Live address and I'm not sure I want another id … as pretty as bing is, I decided more research was in order.
So I used bing to check bing versus google.
You can check and compare here …
I compared the cost of living between Chicago and Salt Lake City. I think Google got closer to what I might want to know.
Some folks say bing maybe offering information to sway my decision … I tried to find more examples of bias and wasn't successful. Some folks are more clever than I.
Decide or Decide to Buy? …
From the first hello "every bing" has been about buying. The introductory email pointed to a back-to-school shoppers survey. I learned that:
56% of shoppers won't be buying Back-to-School supplies online
75% will trade down to get more value for price
At the sign up screen, I was greeted with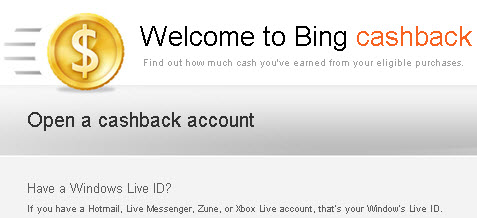 and when I hesitated to complete that step … I was received an email reminding me of the opportunity to get cash back on my purchases. It read,
Hello,
Welcome to Bing, the search that pays you back!
What I hear is not "decide," but "decide to buy."
Can bing Help Me Decide?
A small sign upper right on the bing home page reads:
Live Search is evolving. Tour Bing …
I keep remembering my mom saying "if everyone jumped off the bridge …" As Judy Shapiro said,
Maybe I am just too independently minded (and not the primary target), but I resist the notion that Microsoft technology will decide anything for me. What I really want is technology to give me the information I need to make the decision I want.
Have you tried bing? What did you find?
–ME "Liz" Strauss
Work with Liz on your business!!