The Book List: a weekly series by Teresa Morrow
I'm Teresa Morrow, aka The Author's Cheerleader and I work with authors & writers to help them with their online book promotion and marketing. As part of my job I read a lot of books (I love to read anyway!). The books in The Book List series will cover a range of topics such as social media, product development, marketing, blogging, business, organization, career building, finance, networking, writing, self development, and inspiration.
'#MYBRAND tweet' by Laura Lowell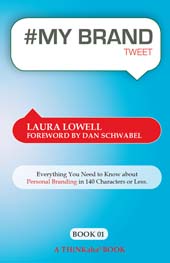 Here are a couple of tweets on personal branding I enjoyed:
#3 A brand is a promise you make—a promise of value, consistency, and expectations.
#10 You can mess up once or twice, but by the third time what is consistent is that you messed up.
#19 Remember to focus on what you're good at and what you love to do—chances are you will do it well and enjoy the process.
#29 #MyBrand has a strategy because you can't afford to create your brand by accident!
#42 Go to the source and learn about what your audience is learning.
#55 #MyBrand needs a value proposition that puts you in context of the competition.
About the Book:
For anyone new to personal branding, or who needs to take their career to the next level, #MyBrand tweet is your first step toward differentiating yourself in a very crowded environment. From defining the idea of personal branding and the mechanics of building yours, to getting your brand out there and keeping it alive, #MyBrand tweet helps readers define their identity and build awareness for their unique value in the marketplace.
The idea behind personal branding has taken on a life of its own. The idea that everyone stands for something isn't new. But the fact that you have a way to communicate your unique value to millions of people all at once certainly is. Before jumping in and creating your personal brand, it is vital to understand what you mean, what the market thinks you mean, and where the gaps are.
About Laura:
During her 20+ year career, Laura worked for Hewlett-Packard where she was the Director of Worldwide Consumer Marketing Communications with responsibility for planning and implementing integrating marketing campaigns across all HP consumer product lines. Earlier in her career, Laura spent several years at Intel Corporation where she was on the start-up team that developed and implemented the Intel Inside branding program. A degree in International Relations prepared her for work assignments in Hong Kong and London, after which she received her MBA from UC Berkeley, Haas School of Business with an emphasis on marketing and entrepreneurship.
Laura has been featured on Oprah & Friends, ABC, The Huffington Post, and more. Laura is also an active blogger authoring The Rules…According to You about branding and marketing for entrepreneurs. A dynamic speaker, Laura has been a keynote speaker at conferences around the world.
You can pick up your copy of '#MYBRAND tweet' at Happy About.com, the publisher's site
Another book that is on my Book List is 'What Color is Your Parachute:A Practical Manual for Job-Hunters and Career-Changers'
'What Color is Your Parachute:A Practical Manual for Job-Hunters and Career-Changers' by Richard Bolles
"Ideally, everyone should read What Color Is Your Parachute? in the tenth grade and again every year thereafter."
–Anne Fisher, Fortune
"There's Parachute, and then there's all the rest. . . . A life-changing book."
–Career Planning and Adult Development Journal
"Parachute is still a top seller and it remains the go-to guide for everyone from midlife-crisis boomers looking to change their careers to college students looking to start one."
–New York Post
About the Book*
These are some of the questions at the forefront of the modern job-searcher's mind. And they are thoroughly and thoughtfully answered with all-new chapters in the 2011 edition of What Color Is Your Parachute?, the best-selling job-hunting book in the world for more than three decades–in good times and bad. A longtime fixture on best-seller lists, What Color Is Your Parachute? features life-saving information that is updated each year to cater to the specific requirements of today's job market.
Career guru Richard N. Bolles leads job-searchers to find meaningful work. He asks, WHAT skills do you most love to use? WHERE–in what field–would you most love to use them? And HOW do you find such jobs without depending on agencies, ads, and online postings?
This book is not only about finding a job in hard times, it's also about finding your passion. In the words of Fortune magazine:
"Parachute remains the gold standard of career guides."
What Color Is Your Parachute? is the world's most popular job-hunting guide, with 10 million copies sold, in more than 20 languages. Written by career guru Richard N. Bolles–who coined the terms "informational interviewing" and "transferable skills"–this New York Times and BusinessWeek best seller answers such questions as:
"What are the five best–and worst–ways to search for a job?" See chapter 3 (starting on page 31).
"What are the most helpful job sites on the Internet, out of the thousands that are out there?" See pages 53-54.
"What interview questions can I expect to be asked, and how do I answer them?" See chapter 6 (starting on page 93).
"I want to use a resume. What should I include?" See chapter 5 (starting on page 71).
"I haven't a clue how to do salary negotiation. Help!" See chapter 7 (starting on page 121)
About Richard*:
RICHARD N. BOLLES has been a leader in the career development field for more than thirty-five years. He was trained in chemical engineering at Massachusetts Institute of Technology, and holds a bachelor's degree cum laude in physics from Harvard University and a master's in sacred theology from General Theological (Episcopal) Seminary in New York City. He lives in the San Francisco Bay Area with his wife, Marci.
You can pick up your copy of 'What Color is Your Parachute' at Amazon.com.
*Information and picture provided by and/or located on Amazon.com