Todd Hoskins Reviews Tools for Small Business
Todd Hoskins chooses and uses tools and products that could belong in a small business toolkit. He'll be checking out how useful they are to folks who would be their customers in a form that's consistent and relevant.
Cool Tool Review: Aquent & crowdSPRING
A Review by Todd Hoskins

(Disclosure: I currently work with Aquent)
The free agent revolution predicted by Fast Company more than a dozen years ago never fully happened. The rising costs of healthcare, along with our collective drive for security as a result of war and economic turmoil made many people choose employment rather than a life of freelancing.
For reasons of choice or necessity, there are still a lot of independent workers looking for the right gig. Large businesses often will use contractors to provide flexibility, cost savings, or to rent skill sets they do not have. Small businesses should use freelancers more often.
I recommend a couple companies that match talented people with organizations in need of help: Aquent and crowdSPRING.
Aquent has been in business for 24 years. With offices around the globe, and specialized practices in online marketing, interactive design, user experience, traditional marketing, and graphic design, they find the best people either offsite or locally to fit your culture and need.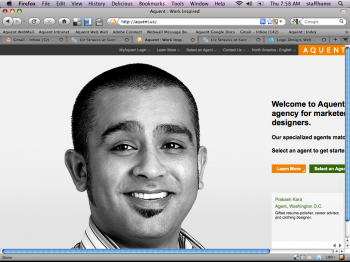 It works this way. You have a project, or perhaps someone is taking a one month vacation. You contact Aquent. They assign an agent who will select some candidates from their talent pool based on budget, skill set, and working environment. You interview one or a few, and make a choice. Aquent pays the talent and bills you. The whole process can take less than a week.
For a small business, this gives you access to the most talented designers and marketers for a time period and cost that you dictate, without needing to screen a bunch of people or take on a full-time employee.
crowdSPRING offers logo, graphic design, and writing services, with a much different approach. You post the project on their site, including deadline and a price. Then you wait for the creatives to submit their entries. In addition, crowdSPRING has one of the best small business blogs out there. They are smart people, now with a network of over 60,000 freelancers.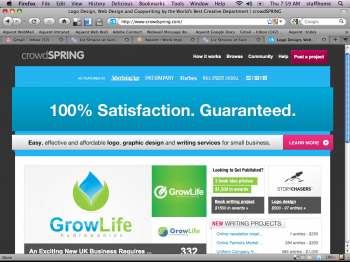 Summing Up – Is it worth it?
Enterprise Value: 4/5 – Revive the Free Agent Revolution. There is great talent ready to help. Compelling alternative to paying agencies to do execution work.
Entrepreneur Value: 5/5 – A 2 week SEO engagement, site redesign, or copy rewrite can make a big difference
Personal Value: 2/5 – if you're a freelancer, these companies can help you