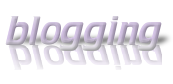 I've been writing professionally for about 10 years, and the majority of those years were spent at the newspaper. I delved into blogging early this year, and I've learned a lot from this experience. These two writing avenues have taught me things about myself I didn't even know.
I like writing on deadline.
When I first started writing for the newspaper, I was horrified when my editor threw me a breaking story that needed to be completed within a couple hours, so the story could appear in the same day's newspaper. Now, I love that pressure. It might sound crazy, but I think the adrenaline rush helps me write better than ever, instead of agonizing over every word.
With blogging, I have yet to be on such a tight deadline. However, I've learned to not take five minutes over word choice. (Should I say choice or options?) When I blog, I try to be myself and just talk.
I don't mind asking for help.
Working for the newspaper was a constant learning experience. Each and every day was different. When I was asked to cover a city council meeting when I usually covered Kiwanis Club meetings, I took the time to ask the regular reporter what to expect, what to listen for and what would make a newsworthy story.
As a novice to blogging, I researched how blogging was different from other writing and studied other blogs. I also asked and continue to ask more experienced bloggers for advice and direction. I don't care if my questions seem stupid because I figure my questions can keep me from looking stupid.
I love to tell stories.
When I worked for the newspaper, I grew to enjoy telling someone else's story. I felt like I was getting important information into the ears of the public. Feature stories were the best because they featured a person or group, who made some accomplishment or had an interesting story to tell. We can learn a great deal from simple stories.
I once got to write a story about the hometown bakery owner who used to be the manager for Wild Cherry. You know, "Play That Funky Music White Boy." It was so fun to write!
When I blog, I try to tell stories. Most of the times, these stories are my own, and I have to remember that these stories have a point. Have you ever found yourself writing about something that happened to you only to get to the end and wonder what point you were trying to make?
Newspaper office or home office?
This one's a draw. I think I like my home office more than my desk at the newspaper. At home, I can write whenever I have a spare moment, which is great with my rambunctious toddler. On the other hand, it can be difficult to jump on my computer to just check my e-mail with an active little girl tugging on my arm.
At the office, I had a set period of time from 8 to 4 every day to do my work. I got the job done. But I also had a lot of down time.
It's not for the money.
Anyone who has ever worked for a newspaper, unless it's a very huge paper, does not work for the money. A high school graduate, not a college graduate, could have easily earned what I did somewhere else. I stayed with the newspaper as long as I did because I enjoyed the work, writing people's stories and being in an office full of wonderful people.
I blog because I love to write. Yes, I want to earn money with it, but I'm not looking to get rich. I'm not saying that you cannot earn a substantial income from blogging because I know it can be done. I just don't want to.
What have you learned from blogging?
—-
Terez Howard operates TheWriteBloggers, a professional blogging service which builds clients' authority status and net visibility. She regularly blogs at Freelance Writing Mamas . You'll find her on Twitter @thewriteblogger
Thanks, Terez!
–ME "Liz" Strauss
Work with Liz on your business!!
I'm a proud affiliate of