Do You Really Think You'll Have More Time Later?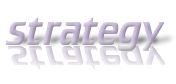 Where we're working at home or working in an office, at this time of year, time is hard to find, hard to manage, and basically not there. What's new about that?
Stop! Think for a moment. When do you remember having too much time on your hands?
Do it now!
Bet it's been a while since you didn't have plenty to do even if it was things you didn't want to do. I'm guessing that finding time to do everything that you could, should, or might be doing to move ahead right now is one of the biggest problems you've ever had.
How to Be an Opportunity Magnet
Strategy is a realistic plan for taking advantage of how opportunity fits our unique situation and skills. Yet, opportunity can pass us by and keep on moving, if we don't have time for it.
To be ready for the opportunities coming our way, we have to create space and time to handle them. Here's a few ways to be ready when it does. Become an opportunity magnet.
Tell people where want to be giong. The more people you tell, the more people who can be passing along opportunities.
Know your focus. Not all opportunities are equal. Look for those that match your focus.
Know what you need to move you forward. Some opportunities will be in your line of focus, but they'll be just more of what you're doing. Look for chances to meet new people, gain new skills, and expand your expertise and experiences.
Stop again to ask questions. See every person as a chance for learning. They know about shorter ways to get to where you're going. That makes them opportunities too.
Don't do everything yourself. Enlist your network and friends to help you with those things you're not so good at. Let them help you build what you're building. They'll know better how to refer you and how to help you find the opportunities you need.
One single NYTimes has more information than an average 18th century person learned in a lifetime. We're not going to get away from the constant noise and time burden. But we can create a space where opportunity can squeeze and flourish … if we know how to recognize the right opportunities and develop the habits that will attract them.
What do you do to attract more opportunities to your life?
–ME "Liz" Strauss
Work with Liz on your business!!
Successful-Blog is a proud affiliate of