This is about the contest sponsored on behalf of SEARS via Izea.
The opinions, memories, and words are mine.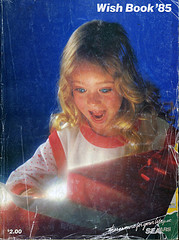 You might remember the story I told about when I was a kid … how my mom would sit us down with the Wishbook from Sears to make a Christmas wish list …. My list kept me busy for hours — busy dreaming, and wishing, and learning the life skill of filling out order forms.
Every year my mom would grant one wish.
This year, Sears let me be the one who got to grant a wish in the the $500 Grant a Wish Giveaway!
The assignment was simple. I got to test drive a $500 gift at a SEARS store and then I had to put together three packages so that one lucky winner could use a wish from the three.
The randomly chosen winner is Jennifer Hedden. Her entry was comment #402 on my blog and she chose
Cool Tools Wish
Thank you everyone for making this experiment in blogging (and time travel) such a positive and fun experience for me.
Congratulations, Jennifer! An email has already been sent to you. I feel pretty lucky to be able to be part of all of this. Hope you and every one have the best 2009!
–ME "Liz" Strauss
The contest was sponsored. For more information about the sponsor SEARS or the contest see Izea.
It's the spirit of the season!! Thank you.