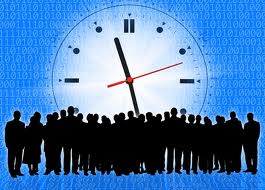 While many employees are either off to begin with or ducking out early on this Thanksgiving Eve, how many do you suspect are being truthful about the hours they worked this day?
For many small business owners, it can be a challenge to properly document how many hours their workers are in fact putting in. Even though many companies employ a 40-hour work week, not all employees abide by this rule.
According to a Salary.com survey, surfing the Internet has over recent years become one of the major reasons not all work gets done on time.
The survey noted that more than 60 percent of workers end up on non-work related websites on a daily basis while "working" at their jobs. Within that percentage, nearly 40 percent spend one hour or less per week, 29 percent devote two hours per week, 21 percent waste five hours of their employer's time per week, while just three percent claim to waste 10 hours or more.
Yes, in some workplaces across the country, employers go above and beyond what would be deemed the normal office environment, that is monitoring the hours worked, time spent for lunch, and how many breaks workers are taking. Some even block a number of Internet sites or the Web altogether.
Others, however, feel the need to implement some type of system that will easily and properly record the time each employee puts in on a daily basis.
Should you find yourself to be one of those small businesses in need of employee time tracking, consider the following:
1. Take the time to find the right system – First and foremost, you don't want to waste money on the wrong system. Some systems can be harder to implement and record, so make sure the system you desire is understandable, effective, and worth your time. If you or your employees are spending excessive time during the week trying to figure it out, are you truly saving time in the long run? In most cases, the answer is no;
2. Follow the leader – If you want your employees to play by the rules, don't you think you should too? Even if you own the company or are a higher-up executive, keep in mind that the company is made up of team members and not individuals. Set a good example for your employees by putting in a responsible amount of hours yourself during the week. Most employees respect authority and will follow suit if they see their managers and others higher up the work food chain setting a good example for others to follow;
3. Treat all employees fairly – Nothing can harm an office more than if it is perceived that some employees are getting special treatment when it comes to recording their time spent working. While there are always going to be special circumstances for medical appointments, emergencies and such, treat all employees the same when it comes to recording their hours worked. If some employees feel management is looking the other way in some cases with recording employee hours, it can quickly turn into a major issue in the workplace;
4. Set the rules – In some companies, overtime work is going to be required in order to meet customer needs. In those cases, make sure when hiring workers that they know if they are working from a set salary or are paid hourly. In some cases, workers will try and bill for extra hours that they worked legitimately, yet others will try and stretch the truth. That being said, it is also important that employees record their lunch breaks, etc. so that they are meeting the requirements as set by the law. Under reporting hours can be as much of if not more of a problem than reporting too many hours worked;
5. Review over time – Finally, it is important to review your employee time tracking software, how it is implemented, and what works and does not work from time to time. The needs of your company will change over time, hence how you record employee time spent doing a job will too. Whether you track employee time by when they sign in on their computers, when they enter the office or by some others means, don't just assume it is automatically working. If your current tracking operations are not working, take the time to fix the problem and see better results in no time.
Photo credit: smallbiztrends.com
About the author: With 23 years of experience as a writer, Dave Thomas covers a wide array of topics to help your small business succeed.