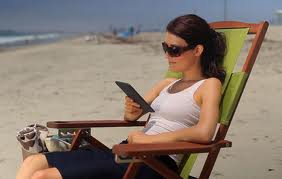 With the New Year off and running, did you make the standard resolutions that most folks make?
You typically hear things such as :
* I want to lose weight
* I want to exercise more
* I want to pay down my debts
* I want spend more time with my family
While those are all good resolutions to have, how many of them do you actually follow through on when all is said and done?
Unfortunately, too many Americans who work for or run their own companies do not make a resolution to enjoy more time out of their offices, be they at a corporate setting or at home.
With the economy still feeling like a ride on a rollercoaster, many workers feel they just can't take the time from their busy work schedules to enjoy a little rest and relaxation. As a result, it is not uncommon for them to become burned out.
In order to lessen the chances of becoming burned out on the job in 2013, keep these things in mind:
* Work can be consuming – Everyone has to work in order to keep a roof over their heads and food on the table. That being said, spread out your work loads as much as possible. If you run your own small business, consider hiring some help if you have not already. The money you may be saving trying to do all the work on your own could end up being spent on medical bills down the road if you overdo it. If you have to handle it by yourself, set a goal for yourself each day to accomplish X amount of the work;
* Don't procrastinate – One of the worst things you can do when working at or running a business is procrastinating. Especially in today's Internet age, albeit with personal computers, access at work through an office machine, smartphones, apps and more, it is easy to get distracted in doing your job. Make sure you take a break or two during the day, but don't let it turn into several breaks. Some companies prohibit employee access to the Internet while on the job for just that reason. There is time before and after work to shop online, talk to friends, and simply browse different sites. Make sure your work does not fall victim to wasted time on the job whereby you are left with major deadlines and little time left to meet them;
* Get away from the grind – How many times have you had a chance to get away from work for a day, a few days or even longer, yet in essence ended up taking your work with you? You could be at a plush resort or far off in the mountains and yet you have the desire to check your work email. While they do not want to bother you, you tell your coworkers that it is okay to interrupt your vacation with calls and emails. Finally, you take a project or two with you to "work" on while you are suppose to be relaxing. Everyone needs some time to recharge their batteries, so make sure doing so means turning the work answering machine in your head off;
* Don't be a hero – Finally, there are only 24 hours in a day, so don't try and get everything done at once. When you are rushing to get things done because your workload is too heavy, you tend to make mistakes. Always remember that it is better to take a little extra time to get a project or simple task done then to rush it through and have to go back to fix it. If you are working for someone, discuss with them what you feel you can handle on a regular basis. If the workload is too heavy, consider ways to lessen it without putting your job or company at risk. Taking on too much at once is oftentimes a recipe for disaster.
With the New Year upon you, make sure you work out a schedule that meets both your needs and those of your customers.
Photo credit: apartmenttherapy.com
About the author: Dave Thomas covers small business topics for a variety of websites, including finding the best Waikiki hotels when traveling for work or play.