But I Want to Wear My Jammies!!
Have no fear of perfection – you'll never reach it. — Salavdor Dali
When I was small, it was rare that my mom would take me to my dad's saloon. Usually we were there to return the family car so that he could drive home when he locked up in the wee hours of the morning. Naturally the folks at the bar knew her and knew me as my mom and dad's daughter. While we waited for my dad to drive us home, we'd be saying "hellos" to friends of my parents.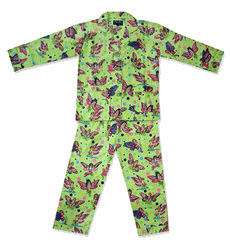 Once when I was about 5 years old. I took a great challenge. I went to my bedroom and got ready for bed on my own. I had new pajamas. I couldn't wait to wear them. They were pale green, thin cottony shirt and pants stamped with teddy bears all over them. I prized my favorite new jammies. They had buttons and a collar. They were like real clothes to sleep in.
Rather than being proud of my self-dressing accomplishment, my mom was thrown by it. She made a face. She said it was't time yet. I was told I to change back into my clothes. We had to take the car to my dad at the tavern.
I suggested we show everyone my new pajamas. I pointed out that they looked like real clothes. She made it clear that my thought was out of the question. I got teary-eyed and pouty. My mom got adamant that I wouldn't wear the pajamas and that I would find a way to a new attitude. She said some behavior was for just at home.
I was the daughter of the owner. His customers were also his friends. I grew up learning that my pajamas and teary-eyed mad attitudes didn't belong in my dad's tavern. I met those people with my best behavior.
Is that authentic?
Is Your Best Behavior Authentic?
One of the best things I ever heard a young mother say to her kids was, "Act as if you know how to behave." Her children were polite, kind, and a pleasure to spend time with — both in public and at home. That's what my mom believed too.
In this brief video, Melissa Pierce offers another way to look at it. The words posted under this video suggested that authenticity may be the wrong question.
I think I agree with her about the question.
Perhaps authenticity is rooted in intent and purpose.

Showing up as my best, cleaning my house, and doing the rest, help me . . .
show my respect for you and for myself.
raise my game and my investment
communicate with sensitivity and grace
For me, that's authentic. Wearing my denim shirt with teddy bears all over it is also a statement of authenticity.
How do you see it? Are you authentic when you're on your best behavior?
–ME "Liz" Strauss
Work with Liz!!