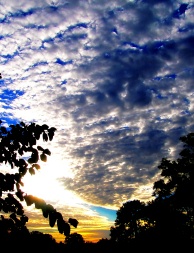 I thought I'd take a nap. I'd read a book first. Then I'd fall asleep, blissfully rest up, catch up on some space I needed. Wasn't happening.
He came in to talk to me.
"Where is he?"
"Somewhere in South Central America, I think. "
"He hasn't called in weeks. He could be
in trouble."
"It's more likely that he's not thinking about us."
"That's my point. He's smart, but sometimes he doesn't think."
"He's 22, and on vacation. He thinks about what he's doing. Just like we did."
"He's in a foreign country. He could be in trouble."
" . . . it's raining. . . ."
"What if he walked into some skirmish in some jungle?"
" . . . the rain is coming down in blinding sheets. . . ."
"Maybe someone stole his wallet and his passport. He could be kidnapped by guerrillas who found out he's American."
" . . . at least the hurricane rains will stop, when the hail starts falling. . . ."
"If he's hurt or injurred, I'm going down there to straighten them out."
"You might ask him if he thinks you should do that at lunch on Saturday."
"What?"
"That's always been the plan."
"But we don't know . . . "
"Exactly, and we don't about the rain either."
"Don't tell him I was worried."
Reining in Imagination in Times of Unpredictable Futures
A great imagination is usually a good thing. We can imagine real solutions to real problems. We can imagine a future and then plot a real path to get there. But when we're feeling a lack of control, an unchecked imagination can put us in a precarious state. We can start making up stories that only scare us while we think we're preparing for contingencies.
Imagination is not a healthy replacement for missing information.
When a situation
a child who's late coming home
no answer from a client that owes us money
a doctor who hasn't called us
a friend who didn't return an email
a closed door on our boss's office
meets a time that we're less than confident, it's tempting to make up negatives on the flimsiest evidence.
Child + late + never happened = must be nearly fatal accident or worse.
Such imagining doesn't find the child or bring him home sooner. It doesn't help us make a plan to find him. It doesn't affect the child situation. It makes us miserable. However, the thoughts of tragedy raise levels of negative chemicals in our brains — which leads in the wrong direction.
The worst part is that while we're making up horrible endings, we're not attending to what needs doing. We can make the negative reality. A person worried about losing a friend starts acting clingy, needy, and angry. Soon the friend loses patience.
The way out of this loop is action. If you find yourself there, try this.
Get the facts.
Recheck and update the information you gather at reasonable intervals, but not minute by minute.
Give the people involved credit to be smart, human, and fair.
Don't try to predict the unpredictable.
Concentrate on keeping your life running smoothly. A solid foundation weathers a storm. Keep your job and your responsibilities covered.
When all else fails, push your imagination to the ridiculous extremes. Write or tell the worst possible scenario and at the end of every sentence add, " . . . and it's still raining."
In tough times situations, we can get hurt by imagining bad endings. We can't deal with bad ending before we have the information about it. Before we predict rain, check the weather. Ya can't get there until ya get there.
It's a better plan to keep doing what's needed to get to the next great day — focus the successful things that keep our jobs, our friends, and our sanity.
How do you rein in your imagination in times of unpredictable futures?
–ME "Liz" Strauss
Work with Liz!!