It's Not About Finding Customers Either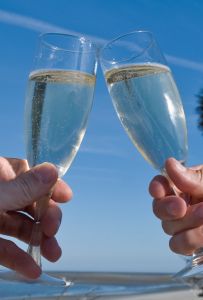 When new clients ask questions about marketing with social media, it's getting easier to determine who's going to be successful. It's not their goals that identify them as understanding the social business culture. It's the way they view their product and the people who use it.
The questions they ask quickly reveal who understands the new social climate, who realizes that it's not about finding customers for their products, but about using their products to connect people to other people. For folks still steeped in broadcast marketing, the conversation quickly turns to product features, uses, and lead generation.
Old thinking was hard enough.
The new thinking is even harder to execute. It brings people much further into the picture. Now we have to show how our products bring people together. Like great design, great products and great marketing call attention to and serve their audience.
It's not about the champagne or the size of the bubbles … it's about the celebration!
Have you seen any great examples of marketing that connected people with people?
–ME "Liz" Strauss
Work with Liz!!