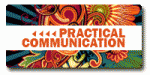 In January I wrote a post about the subject of a documentary I am making. I talked about her community and how they had let her down and a little bit about our relationship. She has been in a women's correctional facility, a jail, since then and we have maintained close contact. Well, as close as you can over a scant few phone calls that are monitored and letters someone else reads after she has written them. There is a chance that in a few weeks she may be released and has expressed the desire to enter a drug rehab program. I applauded her decision and was amazed when she told me there was no one to help her make this happen. I listened thinking this was the addict talking, making excuses, and offered encouragement but didn't respond. After describing the lack of counseling in the facility she finally asked me to help.
  
And so it begins. Phone call after phone call, department after department: "No, we can't refer. " "She needs a counselor." "I can't talk to you about that." Round and round I went. 
I am passionate about helping others. I am passionate about being an advocate for those who, for whatever reason, may not have a voice. But today, as I began advocating for someone close to me I kept hitting a wall. Today I was so frustrated I wanted to scream. Today I felt powerless, silent and ineffective. I have good intentions; I volunteer, serve on committees and volunteer boards. I promote non-profit online and wherever and whenever I can. 
What do we do when the systems we have in place to advocate and care for those disadvantaged in any and every way don't work? How do we accept the fact that those processes put in place are not being managed in a manner that benefit those who need them? 
Again the community has let her down, and again tomorrow I will pick up the phone. 
photo credit: Amy Stark flickr
from: Kathryn Jennex aka @northernchick