Every week Suzie and Des send the most amazing thoughts and photographs from the beaches of OZ. The small missives they send may be just slightly more meaningful because of a dream I carry to return to the beaches I walked there 8 years ago.
Time for a 7-year-old Dream Now?
I started writing this in 2005. This dream was four years old then. I still think about it more often than I might. It waits until more important things hit zero balance. That could take a few more minutes … Usually I don't talk about it.
I don't need vacations. At least I don't lack for places to visit. I don't spend lots of time thinking about things that aren't on the schedule to be happening yet. But maybe it's time that I start doing so.
If I did, I'd be planning to go to Australia. I'd see friends that I miss. We'd reminisce of times passed. We'd plan new times to come. We'd drink Australian coffee and have Australian wine.
I'd choose the coffee shop across the street from Bondi Beach — a table by the window where I could watch the people. I'd have my laptop on the table and fine Australian coffee with those narrow packs of sugar. What a writer I would feel like. What a writer I would be.
My friends would visit me there.
We would drink Australian coffee. I do like Australian coffee.
We'd road trip up the cliff with Australian wine and cheese, to watch the boats in the harbor and talk of Captain Cook — new memories to hold me over until the next time.
And we would drink Australian wine. I do like Australian wine.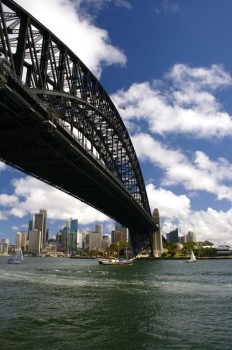 A night walk by the Sydney Harbor bridge. I can't resist the lights on the water. I'd be thinking wishes that could hug a moment into stillness.
Mostly, though I'd be with my Australian friends. The ones I knew before I came online and the ones that I've met since. It's not right always hoping folks will come to me.
Five tiny diamond chips like tiny stars are mine. Two yellow, two pink, one white. They hold a promise I'll return to see mu Australian friends. Five stars inside a tiny boomerang. I wear it on a chain since before my last visit in 2001.
I don't need vacations. I need safe harbor with my friends.
Maybe it's time I dust off that dream and find good reason to be tasting some Australian coffee and Australia wine.
What dream have you to left waiting? How will you know when it's time?
–ME "Liz" Strauss
Work with Liz!!