Meet Barry!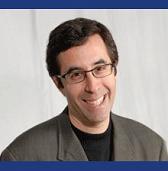 A wonderful thing about the blogosphere is how it connects us. Shortly after I met Brett Farmiloe of Pursue the Passion, I met the guy who inspired Brett to get crazy about his passion.
When Barry called me, his energy bounced through the phone. We met for coffee and parted with a working relationship. I've been working with Barry Moltz since October.
You might know Barry from his first book, You Need to Be a Little Crazy: The Truth about Starting and Growing Your Business. Many of you have told me you are. It describes the ups and downs and emotional trials of running a business. It is in its fourth reprint and has been translated into four languages. (Here's an Amazon excerpt if the book is new to you.)
The Bounce Virtual Book Tour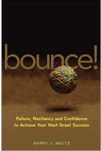 With this post, we're happy to announce that Barry about to release his new book, Bounce!: Failure, Resiliency, and Confidence to Achieve Your Next Great Success. Bounce is about how you gain true business confidence by letting go of both your failures and successes. I've read it and I think that your readers will find the insights that Barry shares to be invaluable.
We're launching a virtual book tour with a series of interview this week on Successful-Blog.
Monday, January 14 — 18.1 What Does It Mean to Bounce?
Tuesday, January 15 — 18.2 Three Archetypes that Lead to Success
Wednesday, January 16 — 18.3 Honoring Our Failures
Thursday, January 17 — 18.4 Good Things about One-Hit Wonders
Friday, January 18 — 18.5 Getting Free of Success Mythology
Because Barry's in Chicago. I get to work with him in person. It's a treat I hope you'll get to experience one day. In the meantime, check out what he has to say this week. You'll see what I mean as you read along. Then keep the great information and counself flowing by subscribing to Barry's Blog.
–ME "Liz" Strauss
If you'd like to arrange for an interview with Barry, email me at lizsun2 at gmail.com