Duck! The HTML Is Falling!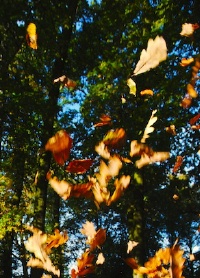 Any time is a good time to look around at we've been living with, but not seeing. At the change of seasons, it seems we even get the urge to do that. I've got a server move coming, so I have an additional incentive. Who wants to back up and pack up things that aren't working?
The point is that over time we load up out blogs with noise and clutter . . . is it time for a clean up?
Any time of the year is a good to clean up your blog. Here's a quick checklist to make your home base more appealing.
Clean up the side bar. Seems we're always adding to the sidebar. Take a look at what no longer needs to be there. Are things in the best order? Are the most important things above the fold?
Change a color. Be conservative and freshen up an existing color to make it feel more up to date and fashionable. OR take a leap and change out more. Get some attention. Save your stylesheet and you can always go back to where you are.
Try out a new header. Chances are good that you've outgrown the one that you're now using. Are you still writing about what it shows? Is it still the best representation of your brand?
Fix broken links and falling html. I spent last night working the SOB directory. I'll be doing more of that over the next few days. Plenty of folks have moved their blogs or retired them completely. Fixing the list is a professional service.
See what other folks are doing. Find your own version of new trends in the blogosphere. Naturally, you'll want to have a compelling reason, but when you do, changing things on your blog can attract new attention.
A new look — a cleaner, sleeker blog — can inspire a blog writer and appeals to a blog writer's muse . . . who wouldn't like an easier more ideas and less distraction? Readers won't find a cleaner, sleeker blog a problem either.
What else could help with blog clean up?
–ME "Liz" Strauss
Work with Liz!!