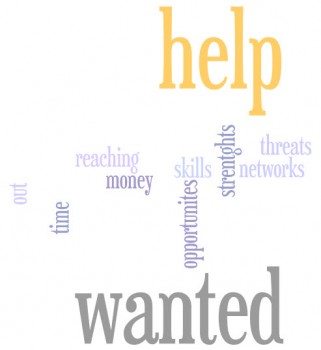 At times like this, you don't need to be unemployed to need more money coming in. All of us have higher costs than we did a few years ago. My assessment just went up by $100 / month. It does that every year. How we approach this thinning cash flow is important to our future situation. It's hard to be saving when the bills are growing faster than the income.
The answer used to be to find a job, but finding a job in a recession could take more time than we have available.
So I suggest we find work instead.
Here's a 5-step plan for doing just that.
Identify a problem everyone has … lack of time might be one.
Choose a subgroup that knows you and your skills … let's say, your network of business bloggers.
Look how you might use your time to improve what they offer … find a problem or a wish they have in common that you can solve or make happen
Package that problem or wish as a reasonable offer … be able to explain why it's smart, appealing, and incredibly easy to hire to for that small thing you offer.
Ask them to refer you to other folks who might benefit from the same offer.
and here are 25 services that could be sold separately
True up my social media profiles.
Keep follower lists up-to-date.
Monitor the social sphere and clip posts.
Set up interviews and guest posts.
Update old content.
Rewrite old blog headlines for more power.
Identify archive posts that could be revised.
Suggest and gather content for an eBook
Develop a plan for a newsletter.
Update and organize the pages in my sidebar.
Make a blogger's press kit.
Write a Wikipedia page about the blog or the blogger.
Shoot a video interview.
Clean up the old code on my blog.
Suggest a new color palette and header for an existing design.
Research photos.
Research trends and topics.
Try out tools.
Find and fix broken links.
Delete dead content.
Organize an editorial calendar.
Set up a file system.
Make a blog post like this into a slideshare presentation.
Update my plugins.
Suggest entries for a link post around a theme.
Most of the folks I know can't afford a VA or a full-time assistant right now, but they could use some help on a discrete task or two on this list. If you chose those things you quickly and well, you price these tasks attractively and folks would feel good about the improvements you made.
I'm thinking of quite a few. I'd like to hire someone to do — one at a time. Are there other services you might like for you blog?
It's good us and our blogs. It's community-centered goal. How might we get some folks back to work this way?
–ME "Liz" Strauss
Work with Liz!!