Sweet WordCamp Chicago – Part 2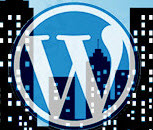 Last week I wrote about some of the great people we met at WordCamp Chicago. This week I send you the rest of them.
At WordCamp Chicago this year we shared our twitter names with our WordCamp "tribe." WordCamp is the spirit of small business come alive offline. We work together to make a community event happen when just a short time before there was none.
We go home knowing we've learned. W leave friends we can still reach out to online. Here are the rest of the WordCamp Chicago Blue Feather Tweeters who left their information with me.
I connect things … and people.
–ME "Liz" Strauss
Work with Liz!!