A Weekly Series by Teresa Morrow
I'm Teresa Morrow, Founder of Key Business Partners, LLC and I work with authors and writers by managing their online promotion. As part of my job I read a lot of books (and I love to read anyway!). I am here to offer a weekly post about one book author I am working with and one book I have put on my reading list. This week I will be highlighting '#DEATHtweet: A well lived life through 140 perspectives on death and its teachings' by Tim Tosta and 'Now, Discover Your Strengths by Marcus Buckingham and Donald O. Clifton, PhD. The books will cover topics such as social media (Facebook and Twitter), organization, career building, networking, writing, self development and inspiration.
#DEATHtweet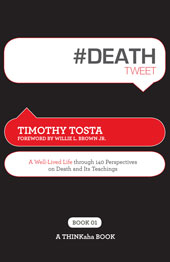 #DEATHtweet is written by Tim Tosta, an environmental lawyer, career coach, cancer survivor and hospice volunteer.
You may be wondering why would I bring up a book about death. Well, Tim sums it up nicely here:
"From my experiences with death, I've learned that it is actually possible to develop and maintain a thriving and even aggressive career, while fully experiencing all that life has to offer. #DEATHtweet and my seminars deal with these issues." Tosta explains.
Here are few of the tweets from #Deathtweet to help understand what the book is about:
~Truly living your life is the best preparation for death.
~Underneath all of its noise and chatter, every life has its meaning. Look for your meaning. It may be great or humble.
~As you explore your life's meaning an amazing thing happens- your life comes into balance.
~Death teaches you to live in profound change and to accept its inevitability.
~Observe your fear. Make it the subject of your curiosity. The more you inquire into it, the less
power it retains.
About the Author:
Timothy Tosta, a partner at Luce Forward, is recognized as one of California's leading land use and environmental attorneys. He also is a cancer survivor, a seasoned hospice volunteer, an evocative lecturer and writer. In 2007, Tim enrolled with New Ventures West and was certified as an Integral Coach in 2008. Tim is a graduate of Princeton University (A.B., 1971) and the University of California at Berkeley School of Law (J.D., 1974). Tim welcomes your inquiries about Coaching Counsel and its programs.
You can purchase a copy of #DEATHtweet online at ThinkAha books or Amazon.
This blog post is part of a virtual book tour by Key Business Partners and I have received a complimentary copy of #Deathtweet by the author.
Now, Discover your Strengths
Now I would like to highlight a book on my reading list–Now, Discover your Strengths.
A strength is defined as consistent near perfect performance in an activity.
In this book, it describes three revolutionary tools (to help discover our strengths) as follows:
1) The first revolutionary tool is understanding how to distinguish your natural talents from things you can learn.
2) The secondary revolutionary tool is a system to identify your dominant talents.
3) The third revolutionary tool is a common language to describe your talents.
I am ready to read more because this books does bring up some interesting points. What are those things you can learn to be good at over time and what are those traits (or strengths) you already have within you.
About the Author:
In a world where efficiency and competency rule the workplace, where do personal strengths fit in?
It's a complex question, one that intrigued Cambridge-educated Marcus Buckingham so greatly, he set out to answer it by challenging years of social theory and utilizing his nearly two decades of research experience as a Sr. Researcher at The Gallup Organization to break through the preconceptions about achievement and get to the core of what drives success.
The result of his persistence, and arguably the definitive answer to the strengths question, can be found in Buckingham's trio of best-selling books, First, Break All the Rules (coauthored with Curt Coffman, Simon & Schuster, 1999); Now, Discover Your Strengths (coauthored with Donald O. Clifton, The Free Press, 2001); and The One Thing You Need to Know (The Free Press, 2005), in which the author gives important insights to maximizing strengths, understanding the crucial differences between leadership and management, and fulfilling the quest for long-lasting personal success.
What would happen if men and women spent more than 75% of each day on the job using their strongest skills and engaged in their favorite tasks, basically doing exactly what they wanted to do?
According to Marcus Buckingham (who spent years interviewing thousands of employees at every career stage and who is widely considered one of the world's leading authorities on employee productivity and the practices of leading and managing), companies that focus on cultivating employees' strengths rather than simply improving their weaknesses stand to dramatically increase efficiency while allowing for maximum personal growth and success.
If such a theory sounds revolutionary, that's because it is. Marcus Buckingham calls it the "strengths revolution."
As he addresses more than 250,000 audiences around the globe each year, Buckingham touts this strengths revolution as the key to finding the most effective route to personal success — and the missing link to the efficiency, competency, and success for which many companies constantly strive.
To kick-start the strengths revolution, Buckingham and Gallup developed the StrengthsFinder exam, which identifies signature themes that help employees quantify their personal strengths in the workplace and at home. Since the StrengthsFinder debuted in 2001, more than 1 million people have discovered their strengths with this useful and important tool.
In his role as author, independent consultant and speaker, Marcus Buckingham has been the subject of in-depth profiles in The New York Times, Fortune, Fast Company, Harvard Business Review, USA Today and is routinely lauded by such corporations as Toyota, Coca-Cola, Master Foods, Wells Fargo, and Disney as an invaluable resource in informing, challenging, mentoring and inspiring people to find their strengths and obtain and sustain long-lasting personal success.
Marcus Buckingham holds a master's degree in social and political science from Cambridge University and is a member of the Secretary of State's Advisory Committee on Leadership and Management. He lives with his wife and two children in Los Angeles, CA.
*courtesy of Amazon.com
You can purchase a copy of Now, Discover your Strengths on Amazon.
Both of these books talk about life and living it with passion, dedication and using your time living your best life. I hope you enjoy and please let me know what you think about these books. I welcome your comments.