A Weekly Series by Teresa Morrow
I'm Teresa Morrow, Founder of Key Business Partners, LLC and I work with authors and writers by managing their online promotion. As part of my job I read a lot of books (and I love to read anyway!). I am here to offer a weekly post about one book author I am working with and one book I have put on my reading list. This week I will be highlighting '#PARTNERtweet: 140 Bite Sized Ideas for Succeeding in your Partnerships '. and 'Endless Referrals' by Bob Burg . The books will cover topics such as social media (Facebook and Twitter), organization, career building, networking, writing, self development and inspiration.
#PARTNERtweet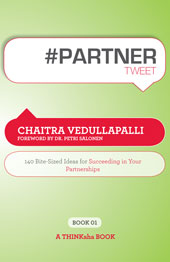 #PARTNERtweet is written by Chaitra Vedullapalli.
Here are few of the tweets from #PARTNERtweet:
~Smart Partnering helps you to deliver functional solutions.
~Smart Partnering provides you access to valuable resources (technology, money, and education).
~Smart Partnering provides you the arsenal to compete on an ongoing basis.
~Smart Partnerships provide a gateway for international expansion.
~Your relationship to the customers does not end with the sale of your product. It begins there.
~The best way to know what your customers want from your products is to ask them.
About the Author:
Chaitra Vedullapalli is the Senior Director of WW Sales and Marketing Communications, where she oversees the information workplace for Microsoft Sales Force. Past work includes shaping the Microsoft Customer and Partner Self Service Experience which touched over 10M Customers & 1M Partners. She was also an integral part of creating the Service Culture at Microsoft and an architect of the Microsoft-IAMCP (International Association of Microsoft Certified Partners) innovation program. Chaitra has also served as Director of Licensing and PartnerNetwork at Oracle where her projects drove licensing simplification and enabled state of the art innovations in Partner Self Service Experience.
Chaitra holds a Patent in WebMethods and Bachelors of Electrical Engineering from RVCE, Bangalore, and is currently active in community efforts to help children in need.
You can purchase a copy of #PARTNERtweet online at ThinkAha books or at Amazon.
This blog post is part of a virtual book tour done by Key Business Partners and I have received a complimentary copy of #PARTNERtweet by the author.
Endless Referrals by Bob Burg
Now I would like to highlight a book on my "review" reading list–Endless Referrals.
I have to admit before I go any further. I have read some of this book and I enjoyed what I have read so far.
I would like to share a bit of this book that I feel has great points (and believe me there are many more in the pages of this book) about the six essential rules of networking etiquette.
1) Don't Ask for Immediate Repayment – Yes, so true. Don't go into a networking event with expectations of getting (or asking) for something in return.
2) Treat a mentor like a mentor – When I see this, it reminds me of "do to others, what you would like done to you".
3) Keep an eye on the clock – Don't overstay your bounds…with the people you are getting to know. Be sure to allow yourself to meet people within the event you are attending.
4) Follow through on your promises – If you offer to send an email or offer to someone, do it.
5) Be extra careful not to offend a referred prospect – Don't offer to refer someone to someone else without knowing it is a good fit.
6) Say (and write) a Thank You – still one of the greatest and simplest ways to create lasting connections.
About the Author:
Bob Burg shares information on topics vital to the success of today's business person. He speaks for corporations and associations internationally, including fortune 500 companies, franchises, and numerous direct sales organizations.
Sharing the principles contained in his bestselling books, Bob has addressed audiences ranging in size from 50 to 16,000, sharing the platform with notables including today's top thought leaders, broadcast personalities, athletes, and political leaders including cabinet secretaries and a former United States President.
*courtesy of Amazon.com
You can purchase a copy of 'Endless Referrals' on Amazon.
I truly hope you will check out these books and please comment and let me know your thoughts on them.