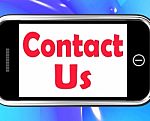 You have a fantastic website that gives customers all of the information they need about your product or service. You may even have a blog to go with your website to provide further information or to answer questions.
However, many businesses often overlook the importance of one page: the Contact Us form.
Even if they include it on the site, they fail to maximize its potential.
Call to Action
Businesses often lack the knowledge on how to use call to actions to convert more customers by making the contact form a bigger part of the website.
It's commonly added to the menu along with the other pages on the site. However, a link to the form should be included with all of your calls to action.
At the point where you invite customers to contact you, there should be a link that makes it easy for them to do just that. If they have to navigate from somewhere else, they may get distracted and forget to complete the action.
What Makes a Good Contact Page
After viewing your website, the Contact form is the next "first impression" that you make.
If someone is taking the time to contact you for any reason, you want to make it a positive experience for them. It should be easy to access and have personality, but it should not be cluttered. You don't want your visitors to get bogged down with what is on the page and forget to actually make contact with you.
The problem with many standard Contact pages is that they are designed solely for functionality without thought about the people that will be using them.
As Howard Yeh, founder, investor and president of ContactUs.com says about the process of designing a contact form, "We approach the problems that websites face not just as web developers, but as online marketers, experienced lead-generators and sales account managers. And with that mindset, we've built both features and data solutions to make those jobs easier."
You want to look at your Contact page as a marketer.
Does it provide a warm welcome and then a call to action that visitors will understand?
It should also be short and efficient.
Collect the necessary information to provide an accurate and thorough reply but don't waste your visitors' time filling out unnecessary fields.
Multiple Avenues to Reach You
While some customers will feel more comfortable with the idea of sending out a message or email, others still prefer a phone call.
A contact link should be visible on all pages right in the area where it does the most good.
On some pages, this may be as a sidebar while on others; you might want it right below a product or list of services you provide.
An effective Contact Us form is one that converts your visitors into customers. It is included as a way to help you establish new relationships and continue to grow current ones.
Make sure your contact page is working for you.
Photo credit: Image courtesy of Stuart Miles / FreeDigitalPhotos.net
About the Author: Joyce Morse is an author who writes on a variety of topics, including content marketing and small business.