A Bicycle or a Subway?

A few months ago, I was inspired by a conversation with Doc Searls to write a piece for the Blog Herald. I wrote about the two Internets in which we live — the one of information and the one of relationships.
A few months later, Doc quoted a discussion at IS2K7 at the Harvard Law School.

We're building a new bicycle while we're riding it here.
That metaphor explains beautifully what we do every day.
Recently, I encountered this visual that shows the 200 top sites on the Internet as of last summer.
You might enjoy seeing how to get around this new civilization we're creating. Thank you, Michael's Blog, for finding it. Click to go to the source at information architects.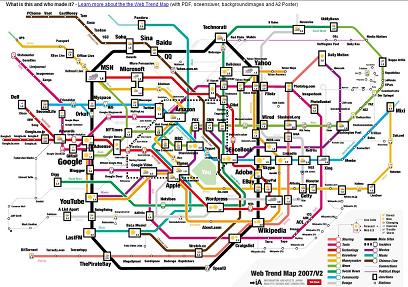 This place we meet every day . . .
It's our thoughts; it's our dreams; it's our reality shared in a virtual space.
It's our business to know how it works. It's the bicycle, or the subway, that we're buidling while we're riding it here. It's time to start exploring the Living Web.
On which line do you spend more your time?
–ME "Liz" Strauss
Work with Liz!!