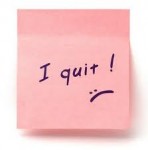 The days of individuals staying at one employer their entire lifetime are few and far between any longer.
Given factors like a struggling economy, people going back to school to further or change their careers, and employers downsizing many businesses, it is not uncommon for a professional to end up with four or five jobs by the time they slip into retirement.
For those individuals who decided that it is time for a career or job change within their present line of work, what is the proper protocol for leaving their current employer?
Some individuals believe it is of utmost importance to give two weeks' notice so that no bridges are burned should they want a relationship with their present employer down the road.
Others, meantime, feel like two weeks is not necessary, given the fact that most employers will let go via layoff or fire someone on the spot, hence, not providing the employee with advanced notice.
When looking at this matter from the employee point of view, keep these factors in mind:
Would your employer do the same? – The answer to that question nine times out of 10 is no. Unless it is a matter of not renewing a contract and the employee is told so when it comes up for renewal, employers are not going to walk over to your cubicle or call you into their office and tell you they are firing you in two weeks. In many cases, you will have literally minutes to clean out your desk, gather your belongings and most likely not say goodbye to fellow workers;
Will you need this employer as a reference? – Even though many employees switching jobs already have their new job lined up before exiting their present one, they may want their soon to be ex-employer's reference down the road. They may want to even do some part-time freelance work for the one they are leaving. By not giving two weeks' notice, those chances pretty much go out the window;
Do you want to maintain office friendships – In some instances; you have gotten to be good friends with one or more co-workers in your present office. If you just up and leave for greener pastures, your co-worker or co-workers may view it as bailing on them and specifically that friendship you built if you don't tell them ahead of time. Determine ahead of time how important your soon-to-be ex co-workers are to you when considering appropriate notice;
It really is a small world – Many employees would be surprised to learn how truly a small world it really is. The last thing you want is word getting around that you just up and left a job without proper notice. It may not hurt you now that you landed a new job, but it could down the road when you may be let go by this new company and find yourself job hunting again.
Speaking from experience, I've been on both sides of the coin here as far as how much notice I gave.
In my first full-time job out of college, one I was at for just under six years, I gave my employer a good six weeks' notice because I wanted to have a smooth transition and I knew I was relocating on the other side of the country months ahead of time.
So, how did my employer repay me for doing a nice thing like that? After the first week or so, they had my replacement training under me, telling me several times if I didn't like my new workload, work conditions etc. I was more than welcome to leave my job early since they had someone in place to replace me.
Needless to say, I never have nor ever would give an employer that much notice going forward.
In one part-time job, I had been told by my employer that certain things would happen following my training process. Needless to say, they never followed through on any of those promises.
Knowing things were not going to change, and knowing I would continue getting the run-around, I worked two weeks ahead of time so that my assignments both present and over the next two weeks were done, walked in one morning and cleaned out my desk, and left before anyone showed up.
I'm not saying it was the wrong or right way to do things, but at the time it felt like the decision I needed to make.
The bottom line is each employee has to weigh the matter at hand, determine how giving or not giving two weeks' notice will impact them down the road, and go from there.
Yes, it seems like the right thing to always do, but in some cases, right doesn't always win out.
Photo credit: jezebel.com
Dave Thomas, who has authored a number of articles regarding small business credit cards and commercial vehicle insurance writes extensively for Business.com, an online resource destination for businesses of all sizes to research, find, and compare the products and services they need to run their businesses.