A More Sensible Way to Buy on the Web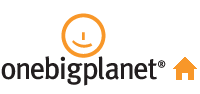 Keep an eye out. A new service is coming to the Internet. You'll find it as part of your social network, and it will make the way you buy things online easier, faster, and more intelligent. It's the power of OneBigPlanet, a patent pending Commerce and Loyalty platform that leverages the power of the Internet, an intelligent algorithm, Web 2.0 and your personal preferences. I've seen it in action.
Here's a bit of the history and a little about Eric Aubertin, CEO and founder of One Big Planet.
In 2002, Eric Aubertin founded OneBigPlanet Corp., where he pioneered a patent pending Web and Mobile Commerce and Loyalty Platform for social networks and organizations. He had a vision of changing the way people consume and saw a market opportunity to develop an easy to deploy but comprehensive solution that would empower social networking sites, portals, membership organizations and associations to foster strong and long-term relationships, as well as assist them in monetizing their sites. The members would benefit by gaining access to exclusive deals and advantages as well as useful consumer tools and information that would enable them to save money and time.

Previously, as CEO and Founder of eFundraising.com Corp, Eric Aubertin had invented a patented e-mail and web-based fundraising system that was acquired by Reader's Digest in 2000 for the sum of $27 million
Last Friday, I enjoyed a meeting and conversation with Mr. Aubertin and OneBigPlanet Marketing Services Director, Sonia Gasparini. They showed me around the platform and showed great patience with my curiosity. I was asking questions and having ideas. It's quick to see how it makes life easier.
Imagine being able to build your own Internet shopping mall complete with
Products and services organized in over 20 drag & drop categories.
Instant rewards (discounts) tailored to your preferences and interests (no points/miles to collect)
Cool tools: Consumer Calendar· Travel Power Search· Restaurant Reservations that remind you and update when you move locations.
Personalized for us. Modular for the network who offers it.
Consumer information to make smarter purchasing decisions.
You expected those things, didn't you? So did I. Think of the real power of bringing all of that information AND US together in one place. Consumers get a new way to lead the conversation.
SOCIAL SHOPPING Is Simply Consumer Driven!
I like the OneBigPlanet term for it — social shopping.
Share your preferences with friends. Never buy a lame gift again.
Participate in consumer forums.
Create your own consumer groups.
Meet others with similar consumer profiles.·
Refer merchants you like.
Give feedback so we can improve your future consumer experiences.
It was amazing to see how OneBigPlanet simplifies Internet commerce. It's a dashboard for all things shopping. I've been dreaming of a personal assistant to organize my consumer life. This would take over that burden. I'd join a community just to use it.
Apparently the U.S. Chamber of Commerce agrees with me.
First and Only Commerce and Loyalty Platform for USCC Employees and Members

New York, NY – April 22, 2008 – OneBigPlanet®, the leader in Commerce and Loyalty Platforms for social networks and organizations, will implement a tailored member portal for the U.S. Chamber of Commerce(USCC). Employees and member companies will have access to an abundance of unique benefits, deals and Advantages. National associations, state and local chambers will also be invited to share this "One-Stop Consumer Portal" with their respective members.

In addition to powering the USCC's Member Benefits Program, OneBigPlanet will offer their member businesses the possibility to position products and services on its member portal. By providing exclusive deals, the USCC's member businesses will have access to a multitude of social networks and organizations, translating into millions of potential targeted customers.
At the end of our conversation, Eric and I talked about the future goals for OneBigPlanet. I was interested in what might be the opportunities for small businesses and online entrepreneurs — clients and readers — to participate by offering their products and services in the future. I'll say I wasn't disappointed with answers or the possibilities.
Until I saw OneBigPlanet, I hadn't thought about how I shop online. How much time would you save if you could do all of your commerce in one place?
Tune in and take a test drive April 29th. Sign up for the videocast now!
No disclaimer. I'm passing on my enthusiasm for a great idea. Great ideas done well deserve attention.
–ME "Liz" Strauss
Work with Liz!!
SOBCon08 is May 2,3,4 in Chicago. Register now!