We're All Teachers and Learners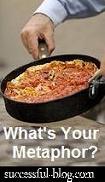 When I traveled to other countries, one thing I didn't expect was to learn how people add new things, ideas, and groups of people to their culture. Here's an example of what I mean.
When I first started working with publishers, I noticed something about illustrators that I later realized was also true about writers.
When we have no experience with something, we notice the differences.
When we have a little experience with something, we begin to look for similarities, but we still talk in generalities.
When we really know something we can talk about generalities and specifics. We can point out how it is like and different from other things.
That's the point at which we can switch from learner to teacher.
The Metaphor Project: What's Your Blogging Metaphor?
Isn't the same thing happening with blogging? Finally we're gaining the experience to pull together the pieces into a picture from which to speak. We're reaching out to explain to nonbloggers in terms they can understand.
Two weeks ago it was Derrick Sorles saying we're pizza makers. This morning it was Char with this outstanding post.
Did Char's metaphor work? Her mom's question at the end proves the power of a great metaphor.
Let's find some more.
Group Writing Project: What's Your Blogging Metaphor?
So, what's your blogging metaphor? I suggest a Group Writing Project.
1. Write a blog post using a metaphor to explain blogging.
2. If you leave a comment with a link to your post, link back to Successful-Blog, or email me, I'll know how to feature your post. It's not necessary, it just helps me track to make sure your work gets seen.
3. If you use Technorati tags, tag the post Blogging Metaphor.
BONUS: Ten contributors will receive an autographed copy of Lorelle's book "Blogging Tips — What Bloggers Won't Tell You About Blogging."
The more ways, the more metaphors we find to help folks understand, the more businesses will see the value. And imagine our friends and families will understand the power and reason behind what we're doing.
They say a picture is worth 1000 words. Use soa few hundred to draw a picture that they'll never forget.
–ME "Liz" Strauss
Check out the Work with Liz!! page in the sidebar.