This is a sponsored announcement, part of a paid promotion. It's rare that I do those. But the question behind it is so worth pondering that I felt compelled to write about it. So it's with pleasure I invite you to read along.
Win a Napa Retreat for 6 and a Tech Makeover!
Our desks and our offices are fitted and filled with tools and equipment that we've purchased to help us do business. Office supply stores, computer stores, furniture stores, and providers online and offline shower us with information about products and services that will make our lives easier, faster, and more productive. But how often do we stop to consider which of those we invest in have given us the highest return?
We know the ones we like and the ones we don't. We know the ones we use every day and the ones we reach for in emergency. But if we lined them all up in a row, which would be the winner as the most surprising, great investment we've made so far? Was it …
that bus ticket that took you to the best project meeting of your career?
that pair of ice skates that inspired you when your feet almost froze?
that video camera that captured the first cut of your documentary?
that ticket to a conference where you sketched out the idea for your business launch?
that chicken that changed the world?
Think about it. Tell your story and you'll learn something about yourself and how you work.
HP's "Reboot With ROI" Retreat Giveaway
HP has posed the question and made it worth your while to answer. They're giving away an amazing prize: a trip to Napa for six people on your team and a technology makeover for your team! To enter, all you have to do is share a story about surprising returns on something you bought.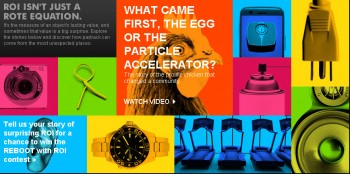 Here's how it works:
Tell Your Story
The best user-submitted stories of surprising ROI will be featured on the site.
Complete prize details:
Grand Prize
A five-day trip for six to Northern California wine country, including:
* Round-trip coach class ticket to San Francisco International Airport
* Two full-size rental cars for the duration of the trip
* Five nights' accommodation at Fairmont Mission Inn & Spa (double occupancy in a Luxury Suite with a fireplace)
* Daily breakfast
* Six-hour wine country limousine tour, with tours and tastings at three wineries
* Ride on the Napa Valley Wine Train, including gourmet lunch and wine-tasting seminar
* Hot air balloon ride over wine country with Up & Away, including brunch
* $550 gift certificate per person for winner's choice of spa treatments
* A gift certificate for dinner for six at a fine-dining restaurant in Yountville
And, after your refreshing reboot in wine country, go back to work with new HP technology.
Grand prize:
* Four HP ProBook computers and 1 Palm smartphone
* Two HP Color Laserjet CM2320fxi printers
* One HP Color Laserjet CP2025dn printer
Silver Prize:
* HP ProBook 4520s computer with broadband included and free case
* HP Color LaserJet CP2025dn printer
Bronze Prize:
* HP Mini 5103 computer
* HP Color LaserJet CP2025n printer
The contest closes on October 31, 2010. ( http://bit.ly/95QWoo )
Read the detailsand find out how to get your story with those already on the HP ROI Giveaway site.
Now that you've thought about it. Do it!
Read some stories and realize how they connect us to the people who wrote them. Notice how each business became more interesting because of the story behind it.
Your story is part of what makes your brand and your business one of a kind.
The real prize here is what you'll get by act of answering the question — share your story and you've already won a great brand insight.
Share it with HP and you might get another huge ROI story about your brand — the story of how writing about surprising ROI became a business retreat for six and a makeover for your business tech.
So you see now why I wanted to share this sponsored event. The insight gained from participation is in itself a prize.
–ME "Liz" Strauss
Work with Liz on your business!!
I'm a proud affiliate of