Todd Hoskins Reviews Tools for Business
Todd Hoskins chooses and uses tools and products that could belong in an entrepreneurial business toolkit. He'll be checking out how useful they are to folks who would be their customers in a form that's consistent and relevant.
Cool Tool Review: LegalZoom
A Review by Todd Hoskins
If you are in business management, there will come a time that you either have to interact with or hire an attorney. The time I've spent discussing contractual minutiae with lawyers now could be measured in weeks rather than hours.
Fortunately, of the four guys I grew up with, one is an attorney. The other three are an investment banker, a doctor, and a plastics engineer. Quite lucky, especially considering the engineer is also a car enthusiast who tells me what's wrong with my aging automobiles. Money, body, car, and the law – I'm covered.
But I'm limited in how often I can get free advice from my buddies. Good thing that not all legal issues require the services of an attorney, and that's why I love LegalZoom. For entrepreneurs, LegalZoom not only gives you a library of standard forms, it files them for you with the appropriate entities.
For example, if you are looking to incorporate, LegalZoom will ask you all the necessary questions to complete the paperwork (think TurboTax). LegalZoom will not only file the paperwork with your state, it will also give you the option of applying for a business license and allow you to submit the required annual report. Bylaws, resolutions, and agreements – if it's standard legal fare, LegalZoom likely will allow you to get it done more quickly and more cheaply.
Think you may have some intellectual property or an invention worth protecting? LegalZoom will allow you file a provisional application for a patent, or do a patent search and apply for a utility patent.
I have used LegalZoom twice in the past four years, and found it both affordable and easy.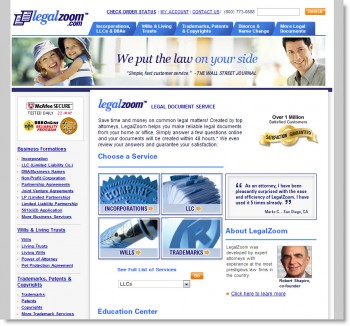 Summing Up – Is it worth it?
Enterprise Value: 1/5 – If you can afford to employ a corporate attorney, you probably don't need LegalZoom
Entrepreneur Value: 4/5 – Doesn't do everything, but for a startup saves time and money
Personal Value: 4/5 – Wills, divorces, power of attorney, real estate leases, even bankruptcies