A Guest Post by Lior Levin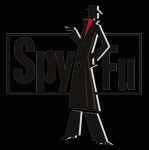 Like most people new to Internet marketing, when I first started out, I made the mistake of believing that the Google keyword tool was the only accurate source of information and whatever Google's tools said had to be treated as gospel. Boy, was I wrong! Not only are there plenty of other tools out there, they are actually a lot more accurate with their numbers because they are impartial.
Google's goal is to make money, which they do from advertisers, so they care little about Internet marketers trying to make a living and their tools tend to reflect this bias. However, I'm here to tell you about a secret weapon no Internet marketer worth his salt should be without and that is SpyFu.com.
Competitive Data and Keyword Research
SpyFu is a comprehensive, online keyword research tool that also offers SEO and PPC tools to allow you to spy on your competition. This online tool will allow to uncover vast amounts of data on your competition, including their daily PPC budget, their keywords, bid prices, how many clicks they get per day and much more. All you have to do is enter the domain name of the site you want to analyze and you are then presented with a plethora of information.
SpyFu allows you to also view the top organic rankings, the best performing ads and the SEO rankings for any of your competitors. It also features a list of the Top 100 Adsense keywords in terms of CPC.
You can also work backwards, by analyzing a specific keyword. You will be offered such information as the number of advertisers bidding on that particular keyword, the price range being paid per click and even the ads and links to the landing pages of the advertisers in question.
The Good, the Bad and the Ugly
One of the things I like most about SpyFu is that the information they provide is straightforward, with no secret formulas. You can see the complete history of a keyword, from how often a certain domain used a keyword in their campaign, to the highest and lowest CPC. It also allows provides information on when the ad copy was changed, which I find extremely useful. If I'm targeting a similar keyword, then I can always analyze the ad copy to see which approach delivered the best results.
The competitive data SpyFu provides is invaluable and I use it for almost every project I work on. After all, to beat the competition you have to know the competition and you would be surprised how much facts and figures can reveal about a competitors marketing strategy. I also save a lot of time by analyzing my competitor's landing pages and ad copy. For example, if a certain ad has been in use for a while and hasn't been changed, you can be sure that it is performing well. You can then use the ad copy in question as inspiration when crafting your own PPC ads.
However, SpyFu does have its limitations and I have found it to be somewhat inaccurate when it comes to the daily PPC budget of a competitor. While this information might not be important to you if you don't do PPC, it is critical to any PPC-based campaign. After all, the budget you set plays a critical role in the ranking of your ad.
Despite its few limitations, I still find SpyFu to be one of the most effective market research tools available online. It certainly delivers much more realistic figures in terms of CPC, search volume and number of advertisers, offering a more accurate overview of a certain market or niche.
—–
This outstanding review was written by Lior Levin who is a consultant to 123 neon signs, and also works with an online task management startup.
You can find Lior on Twitter as Liors
Thank you, Lior. You're welcome back here anytime.
–ME "Liz" Strauss
Work with Liz on your business!!
I'm a proud affiliate of