Todd Hoskins Reviews Tools for Business
Todd Hoskins chooses and uses tools and products that could belong in an entrepreneurial business toolkit. He'll be checking out how useful they are to folks who would be their customers in a form that's consistent and relevant.
Cool Tool Review: Toggl
A Review by Todd Hoskins
I have a confession: I am an obsessive tracker and quantifier. As much as I love art and language, I find some comfort and satisfaction when numbers tell a story. Perhaps this explains my love of baseball and its box scores, or why I love web analytics. For over a year, I experimented with assigning prioritized value to daily tasks, tracking my success or lack thereof. I stopped when I realized my creativity was being hampered by my desire to improve my average weekly scores. I was looking down too much, not looking up enough.
Still, tracking, whether it be your blood pressure, web traffic, or time management can be valuable information. Toggl, a time tracking tool, makes it easy to capture this information. If you bill by the hour, you should definitely be using some type of time tracking tool. Even if you don't, it's a useful exercise to check in for a week or a month and see how you spend your time. (The book Lifelong Activist makes a strong point that time tracking is an important measurement in personal development, and offers great tips on interpreting the results and implementing change).
Toggl can be installed or run on about any platform. It's simple – a running clock that allows you to assign projects and clients to time spent. Start the clock. End the clock. But you do have to remember to do this with every project transition. Of course, there are pretty charts and graphs, especially useful if you have the whole team collaborating on various projects.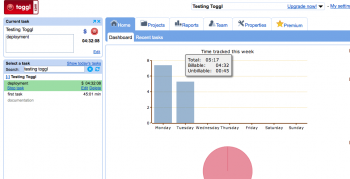 Word of warning: If you impose time tracking on employees who are not billing by the hour, make sure you jointly establish some reasonable expectations. It's not good for the soul to feel like every minute is being monitored. Nor is it good for the soul to play the workplace role of hall monitor. For example, in an eight hour workday, you may expect web developers to spend 6 hours on specified projects.
There is a free version. The paid version, starting at $5 per month, has more features. For a team, it may run up to $100 per month. A good value for the information you receive.
Summing Up – Is it worth it?
Enterprise Value: 3/5 – Good programming tool, but doesn't replace the elegance of Pivotal Tracker
Entrepreneur Value: 3/5 – Freelancers gain credibility when they can show their client when hours were worked
Personal Value: 3/5 – Commit a week. See what you learn. With the iPhone and Android app, you don't have to limit your tracking to work. How much TV do you watch? Time spent wiith kids?