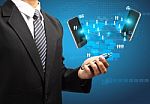 As a business owner, what were your top goals coming into 2014?
Some may say lowering their budgets, while others may point to making better hires. Still others might have focused on becoming more adept at social media.
No matter what your primary objective was when the calendar turned to 2014, thinking about how you can improve your business model should be a never-ending focus of what you do.
With that said, how mobile is your business? Specifically, does your business offer a mobile app?
If you don't think about the following information from j2 Global and eMarketer:
Barely 13.5 percent of small businesses noted mobile marketing was a top priority for them;
It is projected that more than 45 percent of Americans will use the mobile Internet at least once a month this year;
Nearly 70 percent of those individuals running small businesses state they have used or will use Facebook mobile apps in their marketing efforts this year. Meantime, nearly 43 percent have used or will use mobile Twitter apps, while just over 34 percent have used or will be using mobile YouTube apps.
Don't Wait for a Mobile App, Get it now
With those numbers in mind, what are some reasons you need to get with the right mobile app design company and push forward with a mobile app this year?
Among the reasons a mobile app can be beneficial to your small business:
Consumers are on the go – Face it, many consumers are shopping while at work, running around doing errands, or from the comforts of home. Yes, many people still shop in person, but there is a growing block of people that can increase your revenue stream when they can be mobile shoppers. The bottom line is mobile apps, tablets and smart phones have revolutionized how Americans shop. Even if someone doesn't buy a product or service from you, having a mobile app is crucial in order to provide customers with product and service information (see more below on marketing), directions to your business, your hours of operations, contact details and more;
Your competitors likely have one – While you can't be fixated 24/7 on what the competition is doing, it is a rather safe assumption that your competitors have mobile apps. In that case, they're already one step ahead of you if you don't offer one;
Data gathering – Although some businesses still rely on a paper trail of information to see what customers shop for, purchase etc. more and more are finding mobile apps can serve as a treasure trove of data. In a day and age when money is tight and time is of the essence, having key data with which to rely on is important. When you target current and potential customers with ads, knowing what their likes and dislikes are via mobile app data gathering saves you time and money;
Affordable marketing – With a mobile app, you can spread the word about the products/services you have to offer. By utilizing the incoming data that you can receive by having an app, you can target your marketing efforts towards those most likely to buy from you. When you find relevant people, you focus in on them, allowing you to drive more sales.
Now that you can see all a mobile has to offer, take the time to find the right product.
Yes, there are countless app designers to choose from, but which one is best for your brand?
First and foremost, find one that comes with high recommendations.
Along with word-of-mouth, be sure to visit the designer's website and check their social media action on Twitter, Facebook etc. Look to see what kind of social interaction it is they have with consumers, along with how often.
Also do a Google search of the company's name, looking for any flash points.
If they've received a number of customer complaints, have had issues with the Better Business Bureau (BBB) or have stability issues with their finances, those are all red flags.
In a day and age when mobility is key, is a mobile app on your priority list for 2014?
Photo credit: KROMKRATHOG / FreeDigitalPhotos.net
About the Author: Dave Thomas writes about a variety of subjects on the web, including small business, social media and finances.