A Guest Post by Patricia Martin

Let's be honest. There's so much information out there about marketing to Millennials that it can get confusing. That's why I leapt at the chance to undertake a research project for Steppenwolf Theatre Company, based locally here in Chicago. For those of you who might not know them, Steppenwolf's founders include Gary Sinise, John Malkovich, Laurie Metcalf and Joan Allen. They asked me to interview CMO's of world-class brands to find out what they were doing to woo Millennials. To my surprise, each and every executive I spoke to, from Google to Red Bull, eagerly shared their secrets.
The wisdom they shared comes from several years of experimentation and leans heavily state-of-the-art social media strategies. Results? Wrap your mind around this: Ford Fiesta's blogging agents campaign earned it an unprecedented 64 percent brand awareness among the target prior to the vehicle launch. That's without spending a dime on traditional advertising.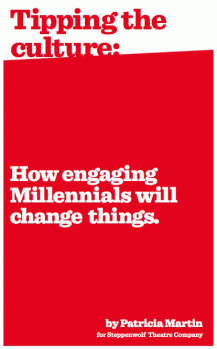 The following 7 tips for making your brand irresistible with Millennials, or "sticky", are taken from the FREE eBook that I wrote with Steppenwolf. The book distills the lessons these brands have learned…and now share with you.
#1: Surprise and delight
Overall, young people prefer to discover new things, rather than being "told" what's interesting. Spontaneity is pleasurable.
Suggestion: Invite them on the spur of the moment to be your guest, or give them a token of appreciation out of the blue for engaging with your brand.
#2: Create a feedback loop
Young cultural consumers crave meaningful interactions. Attractive brands invite dialogue, and then show they are listening by being responsive. Twitter, Facebook, and comment replies facilitate this.
Suggestion: If you ask for their input, make sure there is some kind of feedback loop. Post results of surveys, email or direct tweet a follow-up "thank you" or otherwise credit their contributions. Failing to recognize a contribution from a Millennial feels like unrequited love.
#3: Invite people to share
Teams and tribes, friends and family groupings—Millennials like to team up. Host contests that require them to create content or collaborate in some way. Offer tools or apps to self-organize. Facebook is a self-organizing platform.
Suggestion: Seed group events. Offer discounts or special status to mavens to share with their inner circle.
#4: Justify the purchase
Price is a consideration for this age group. They will spend, but the product alone may not be enough. It's not just about offering a discount, but providing a value-related benefit.
Suggestion: Offer a discount, special premium, sneak-peek experience. Incent, invite, hug them with a free fan T-shirt.
#5: Embrace the remix culture
Well educated and living in a post-modern culture, little is new for them. Fusing genres, technologies, and art forms not only lends an element of surprise, it also energizes the experience with the spirit of experimentation.
Suggestion: Don't be afraid to switch gender roles, create hybrids, and involve cross-disciplinary collaborations to borrow vintage icons and wed them to the digital culture.
#6: Emphasize humanity
Millennials are idealists. Many of them who consume culture also crave intimacy. They embrace ideas and organizations that represent a grander purpose, and they prefer that these ideals have spokespersons with whom they can relate or admire.
Suggestion: Ask for a comment: "Ever felt like that?" Consider auditioning guest bloggers who fit your brand's psychographic profile. It's fine to give them some guidelines. They will likely consider it a cherished credential.
#7: Stay sticky with reusable content
Keeping up with the content demands of self-expression—blogging, tweeting, and maintaining fresh content on Facebook walls-—makes this generation hungry for content they can reuse. They need fodder for the Facebook pages and tweets. Give it to them.
Suggestion: Stock your sites with pithy quotes, quick-hit ideas, photos, and videos that make people come back to you or your site for something: a download, application,
comment, or vote. Then stand back and watch it go viral.
For many more tips in this spiffy eBook, download it as a PDF, or as an
ePub for your reader, iPad or iPhone. It's a quick and easy 32-page read of invaluable
secrets from top brands.
Find out now how top brands are Tipping the Culture.
—–
Patricia Martin is a speaker, author, consultant and researcher on the consumer culture. You'll find her at
Patricia-Martin.com Her twitter name is @PatriciaMartin
Thanks, Patricia! Every time I read your work, I find out something new about people. I love that!
–ME "Liz" Strauss
Work with Liz on your business!!
I'm a proud affiliate of