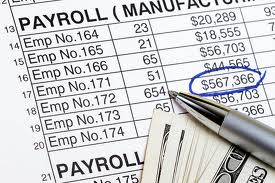 If you own a small business, you undoubtedly find yourself with not enough time in the day to get everything done. As a result, attention to detail must be focused on the most important tasks at hand in order for your business to run smoothly.
So, where does paying your employees (where applicable) sit on that list of required items at your company?
One way to keep employees happy and giving you their best effort is to make sure they are paid properly and on time. If their payments are miscalculated and/or late, their desire to put in a good day's work can seriously be impacted.
In order for the busy small business owner to meet this need, that sometimes means going outside their own office and hiring a payroll outsourcing firm, giving the business owner one less important responsibility to handle.
If you find yourself in this position, what are some things that should come into play when you discuss doing payroll in-house or outsourcing it?
Among the areas to focus in on include:
* Provider background – Just as you would spend the time to research any business you work with, extra attention should be given to any payroll providers you consider. Check to see their track record of working with other customers, if they have any history of complaints against them, and if they are financially stable. It is a good idea to get some referrals from other small business owners using such services that you are friendly with;
* Time saved on the job – If you got outside your company with payroll duties, you free up time for the individual or individuals (typically the HR department) who had previously handled this responsibility. When that is the case, that person or persons can then assist you with other duties. It also removes the pressure from such individuals for properly calculating pay, taxes to be withdrawn, and any benefit issues that can typically arise with payroll, including deductions towards health insurance and 401k plans;
* Taxes do matter – Especially in cases where you are outsourcing payroll, make sure you deal with a company that gets it when it comes to taxes. It is not at all uncommon for small businesses to get a letter in the mail from the IRS, specifically stating that they did not calculate their taxes correctly when doing payroll. When that happens, the company is subject to a potential financial penalty. You will also want them to handle preparing W-2s and 1099s at year's end. Finally, make sure the payroll provider is bonded, meaning your small business has protection from liability when finances are incorrectly reported;
* Employee security – If you turn to payroll outsourcing, make sure they can promise security for you, specifically involving employee data. Information such as how much the worker is being paid, their Social Security number, home address etc. need to remain confidential. If you are transmitting the information via fax machines or even a computer software program, it is important to confirm that the data will be properly protected;
* Up to date with benefits – You not only want a payroll provider who can properly and efficiently handle payroll and taxes, but one that is also up to speed with requirements regarding things like health benefits and 401k plans. Some or many of your employees may be eligible to participate in both, so it is important that the correct amount of money is deducted each pay period for such items;
* Terms of contract – Lastly, make sure you have in writing exactly how much it will cost for the payroll provider to handle your needs. Will you have a one-year contract with them or a longer-term one? When trying out a new provider, it is wise to go with a shorter term deal so you have the ability to see what you do and do not like about their services.
As you head into the New Year, consider working with a payroll provider if you find doing payroll in-house is getting to be too taxing.
If it is, it pays to take the time and find the right payroll provider the first time around.
Photo credit: smallbusinessbranding.com
Dave Thomas covers small business topics for various websites.