Todd Hoskins Reviews Tools for Small Business
Todd Hoskins chooses and uses tools and products that could belong in a small business toolkit. He'll be checking out how useful they are to folks who would be their customers in a form that's consistent and relevant.
Survey Says . . . Polldaddy
A Reveiw by Todd Hoskins
Ask for feedback. Ask for feedback. Ask for feedback.
It's so important, I wrote it three times. I was reminded of this wisdom recently when I asked a circle of friends for some input regarding transitions in my personal life. The responses I received were surprising, and multiple people thanked me for the invitation to share what been unspoken for months or years.
Not every customer will volunteer his or her opinions on your service, product, or brand experience. A simple, "How are we doing?" or "What could we do better?" can yield a library of rich information.
So, Problem #1 is getting the feedback. Problem #2 is dealing with the data. PollDaddy can provide assistance on both fronts.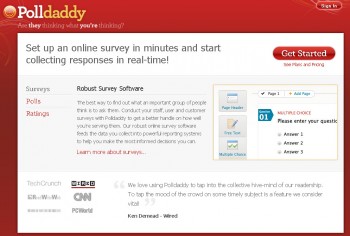 Most people love to share their perspective, some openly, some anonymously. Also, they love to compare themselves to everyone else. This is what ESPN learned when they created a poll at ESPN.com. This led to a featured tab, additional interactive programming, and widespread promotion on television as well as radio. The polling was driving traffic. When they promoted their polls, visitors flocked to vote and compare.
I have used SurveyMonkey in the past to systematically gather feedback. It's a great tool as well. What I love about PollDaddy is the ability to do email surveys, plus polls embedded in a blog, distributed via Twitter, or within social networking sites such as Facebook, MySpace, or Ning. For both SurveyMonkey and PollDaddy, the service is free for up to 100 responses. Annual subscriptions are very affordable at $15 to $75 a month. When the responses have been collected, PollDaddy provides reports that can be easily downloaded into a number of formats.
Polls are valuable for getting a quick read on more of a day-to-day basis. You can adjust your tactics based on questions like, "Was this helpful?" (PollDaddy also has a ratings feature for this). For bloggers, it's insightful to poll your readers' intentions for reading your blog: Inspiration? Community? Information? Get a feel for their background – professions, demographics, and interests.
The non-intrusive and entertaining aspect of a poll also makes it a great way to inject humor into your brand. A balance of asking questions to learn, and asking to be creative, silly, or human will win points with customers and readers. Don't take it too seriously.
Surveys can provide more in-depth assistance for developing your strategy. I have asked customers to rank strengths and weaknesses of a client's service, and asked them where clients should expand their products and businesses. It is important to keep the surveys brief (under 15 questions usually), and minimize the number of open-ended questions. While providing the most unbiased responses, too many open ends will result in a low response rate.
Polls and surveys are no substitute for real, natural dialogue. They are imperfect, but they both show that you care and give you valuable data to make decisions. This leads us to the final issue.
Problem #3 is being responsive to the data. PollDaddy can't help you with that. When you ask people for input, their expectations increase. It doesn't mean you need a redesign, a new feature, or more promotions. But your customers will expect you to respond – either with actions or words. Thank them for their participation. Send a note to the responders who were most impassioned. And, when possible, make public what you learned.
Summing Up – Is it worth it?
Enterprise Value: 4/5 – continuous feedback is as important as large-scale research
Entrepreneur Value: 5/5 – cheap, easy, and brings you closer to your customers
Personal Value: 2/5 – if you want to raise your geek flag, go for it
—-
Thanks, Todd! You can find Todd on Twitter @ToddHoskins
Thanks, Todd, I think it might be time for a poll around here.
What do you find polls useful for in the work that you do?
–ME "Liz" Strauss
Work with Liz on your business!!
Register Now!! for