Make New Rules — Don't Be the List
Somewhere along the line, you probably learned rules about writing resumes pr asking for sponsorship. You probably learned about starting with your objectives and your history. What I'm about to tell you is going to break rules … make new ones instead.
The old resume was all about you, anyway. In today's world, the new rules are all about them. Think about the person or people you are writing to or for. They're the only ones who count.
It's easy to think of a resume as a list — three suits: two blue, one gray — of what we've done. We tend to think of a resume off as one more painful requirement of job acquisition. We tend to think of a request for sponsorship as a list of what we want. That thinking sets us up for major missed opportunities. With a few tweaks, your resume or your request can be a dynamic tool in your business or career strategy.
You may need the list, but you don't have to be the list.
Make your resume or your request more like a marketing brochure.
Most people will do what we want if we can prove it's to their benefit.
That's your quest.
A Yellow Ferrari Product YOU Resume or Brochure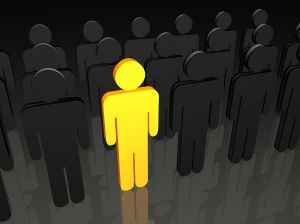 Imagine that you're a product — a yellow Ferrari.
Build a spec sheet quantifying your performance stats — those THEY care about.
Ask a helpful — not hypeful — marketing person to help you write copy about your soft skills — the skills THEY care about.
You're well on your way to serious attention.
Include your product history — tell only what THEY will care about — on page 2.
Use Time and Technology to Show Not Tell
In the age of computers, we should be sending out fewer resumes and requests, not more. Ten well-investigated contacts beat out 100 attempts to knock on the wrong doors. Computers make it easier to seek, find, and learn about the people you want to do business with — be they clients, sponsors, or employers. Use the technology show them, not tell them!
Make a generic Yellow Ferrari Product You Brochure.
Set aside time daily to identify 1 or 2 client, sponsor, employer candidates whose goals match your goals.
Research each candidate to understand how your goals and their goals align.
Use that information to personalize the sample document for each specific candidate.
When we research a company before we approach them, it changes the way we write. It changes our pitch, our volume, our tone and word choice. We see how our personal skill set might add value in their context rather than talking in a manner that's shooting blind.
A Sample Outstanding Product You Branding Brochure
Turn a resume into a Yellow Ferrari Product YOU brochure.
PAGE 1: Why not start with …
This document prepared for [Company XYZ] by [Person ABC] a web strategist who can offer tested experience to [goal MNO]
Career Accomplishments — Delivers results.
This is a short bulleted list of quantitative results, such as sales numbers, profit numbers, great hires, Google results.
Always numbers first.
Core Competencies — Tends the Intangibles.
This is sections of qualitative skills, such as team skills, management skills, publishing skills, interdepartmental skills.
Key ideas highly organized.
PAGE 2: With your skill set laid on page 1, you can list your chronology simply with far less detail on page 2. Depending on your industry, you might offer it as a short narrative summary in place of or above the breakout chronology — the way some restaurant menus do. [Be careful. More traditional industries won't find that inspiring or cute.]
Use It as a Promotional Tool
Change the way you look at your resume and you'll soon find a world of uses for it. Use it as you do your business card. I've sent mine to a business friend with a note saying, "Let me know if my voice might help you in the meetings with the publishers you told me about." Design Page 1 into your blog's About Page to let your readers know more about you, your brand, and your business.
Most importantly look over what you feature to focus on what has contributed most to your success. Know that just the act of doing so will make talking about what you do more fluent in the future.
What would you expect in a Yellow Ferrari Product You Resume / Brochure?
–ME "Liz" Strauss
Work with Liz!!
Related articles
Building a Personal Brand YOU
Brand YOU — Capitalize on Your Strengths
Personal Branding: Strengths Assessment Tool
Brand YOU –What's the BIG IDEA?