The Book List: a weekly series by Teresa Morrow
I'm Teresa Morrow, aka The Author's Cheerleader and I work with authors & writers to help them with their online book promotion and marketing. As part of my job I read a lot of books (I love to read anyway!). The books in The Book List series will cover a range of topics such as social media, product development, marketing, blogging, business, organization, career building, finance, networking, writing, self development, and inspiration.
'42 Rules of Professional Success:A Guide to Common Sense Career Development, Entrepreneurial Achievement' by Bud Bilanich
About the Book:
Written in a straightforward, common sense manner, 42 Rules to Jumpstart Your Personal and Professional Success provides the reader with practical, down to earth advice on how to create a successful life and career. In this book you will learn how to:
take responsibility for your life and career
become more self confident
create positive personal impact
become and outstanding performer
become a dynamic communicator
become more interpersonally competent.
'42 Rules to Jumpstart Your Professional Success' is a guide to common sense career development, entrepreneurial achievement and life skills. Author Bud Bilanich, The Common Sense Guy, has been helping people succeed for over 30 years. He's spent the last 10 years studying successful people, cracking the code to success. He shares what he's learned in 42 rules to Jumpstart Your Personal and Professional Success. Bud shares stories of personal and professional triumphs and failures and what he learned from them. He also tells other people's stories that he finds inspiring.
About Bud:


Bud Bilanich, The Common Sense Guy, is an executive coach, motivational speaker, author and blogger. He is the Official Guide for Executive Coaching at SelfGrowth.com, and the Careers Group Coordinator at FastCompany.com. He is a member of the USA Today Small Business Advisory Panel. He writes the popular blog (www.SuccessCommonSense.com) to which he posts five days a week. Dr. Bilanich is Harvard educated but has a no nonsense approach to personal and professional success as a result of over 35 years of business experience, 10 years of research and study of successful people and the application of common sense. Bud is the author of seven other books, including Straight Talk for Success: Common Sense Ideas That Won't Let You Down.
His clients include Pfizer, Glaxo SmithKline, Johnson and Johnson, Abbot Laboratories, PepsiCo, AT&T, Chase Manhattan Bank, Citigroup, General Motors, UBS, AXA Advisors, Cabot Corporation, The Aetna, PECO Energy, Olin Corporation, Minerals Technologies, The Boys and Girls Clubs of America and a number of small and family owned businesses. Bud is a cancer survivor and lives in Denver Colorado with his wife Cathy. He is a retired rugby player and an avid cyclist. He likes movies, live theatre and crime fiction.
You can pick up your copy of '42 Rules to Jumpstart your Professional Success' at the publisher's site
Another book that is on my Book List is 'We First: How Brands and Consumers Use Social Media to Build a Better World'
We First: How Brands and Consumers Use Social Media to Build a Better World by Simon Mainwaring
"We First lays out a movement to transform corporate America, providing plenty of food for thought for the business leaders of today and tomorrow."–Tony Hsieh, New York Times bestselling author of Delivering Happiness and CEO of Zappos.com, Inc.
"Mainwaring is an inspiring leader that truly understands the dynamics in play in the new world of business, online consumer behavior, and how they can collaborate to rethink and rework paths to true global renewal."–Brian Solis, award-winning author of Engage
"Simon Mainwaring shows how to use social technologies to create and deepen business relationships, which in turn drive profits. Put meaning back into your business by buying this book. Actually, buy two and give one away to someone who is also yearning to take their business to the next level."–Charlene Li, author of Open Leadership and Founder of Altimeter Group
About the Book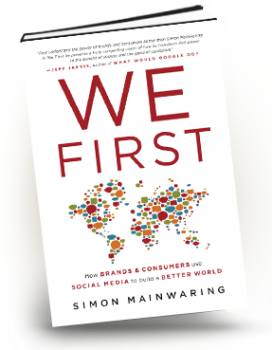 A social media expert with global experience with many of the world's biggest brands —including Nike, Toyota and Motorola—Simon Mainwaring offers a visionary new practice in which brands leverage social media to earn consumer goodwill, loyalty and profit, while creating a third pillar of sustainable social change through conscious contributions from customer purchases. These innovative private sector partnerships answer perhaps the most pressing issue facing business and thought leaders today: how to practice capitalism in a way that satisfies the need for both profit and a healthy, sustainable planet. Mainwaring provides case studies from companies such as P&G, Walmart, Starbucks, Pepsi, Coca-Cola, Toyota, Nike, Whole Foods, Patagonia, and Nestlé as well as a bold plan for how corporations need to rethink their strategies.
About Simon:
Simon Mainwaring is a branding consultant, author, blogger and speaker. A former Nike creative at Wieden & Kennedy, Portland, and worldwide creative director for Motorola at Ogilvy, he is the founder and CEO of We First, a social branding consultancy that helps brands and creative companies use social media to reinvent their industries and our world.
He is a member of the GMI Digital Advisory Board, the Advisory Board of the Center for Public Diplomacy at the Annenberg School, AdAge's Power150 and is an Expert Blogger for Fast Company. Most recently he was a guest of the Brookings Institute at the US-Islamic World Forum in Doha as part of their New Media working group and a speaker at the 2010 Cannes International Advertising Festival.
In 2011 Simon's first book entitled We First will be released that presents a new vision for the practice of capitalism, the role of the private sector, and for how brands and consumers use social media to build communities, profits and positive impact: www.wefirstbook.com
Simon has received over sixty international awards at the Cannes Advertising Festival, the One Show (U.S.) and the British Design & Art Direction Awards, among others. He studied Law and Fine Arts (1st Class Honors) at Sydney University and lives in Los Angeles. His website is www.wefirstbranding.com, he blogs at www.simonmainwaring.com and tweets @simonmainwaring.
You can pick up your copy of 'We First: How Brands and Consumers Use Social Media to Build a Better World' on Amazon.com.