Agency and Client Work Is A Cultural Communication Art
My first jobs after teaching were agency roles. I worked my way from presentations to conceptualizing whole programs, campaigns, and products. As project lead, I lived to serve clients — huge brands that made products for consumers, schools, teachers, kids, and parents. I translated the client's needs, goals, and wishes into the final deliverables. I lived for success of our projects together.
Then, in the middle of my career, I was hired to take on the client role. I started hiring agencies, consultants, and developers to work on my own projects. That's when I learned what many client facing business do wrong.
They made me their market. That left me to care about my customers on my own.
Keep Your Eye on Your Client's Customers and Their Cares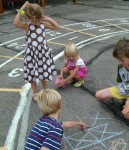 Once I was a client myself, I came to realize that the partners who were most valuable to me were those who cared as much about what my customers thought as I did. The folks who understood that became partner-thinkers. They made my job easier by improving process, product, and approach.
Being a partner-thinker is valuable to a client in so many ways.
We learn the client's rules and process and the way it works when it works well, so that we can gently point out when it's off track.
Seeing the client's customer means we listen more critically to what our clients say. We share the burden of taking care of the client's concerns and values rather than leaving it to our client.
Moving from the role of builder to thinker-partner allows us to offer ideas that contribute added value. The client gets engagement as well as execution.
As a partner-thinker, we involve ourselves in getting to know the customers, not just the client, in intimate ways that stretch our imagination to serve customers more fully.
The beauty of being "outside the client's working system" means that we can see what people inside the system cannot.
When we look past our client to advocate for their customers, we can think with them. More thinkers ask more questions, test more possibilities, go beyond client information to meet their customers. The best agencies, developers, and consultants look to their clients' customers and want to know them as intimately as the clients do. Then they can serve the client and the customer as a thinker and a builder both. more ideas, and seek more answers. Better products, campaigns, and communities are the result.
Who wouldn't want the best thinking when the success of a project, profitability, and my team's jobs are on the line?
How do you show your value as a thinker-partner?
–ME "Liz" Strauss
Work with Liz on your business!!
I'm a proud affiliate of