An Incredible List — Part 2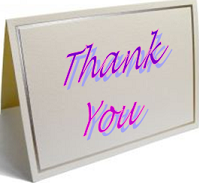 On October 24, 2007, Successful Blog celebrated our 2nd birthday since my first post here. Thanks to everyone who came and everyone who shared by bringing a link to something successful and outstanding.
I guess this an example of why your mom, dad, grandma, 3rd-grade teacher or whomever said over and over, "The early bird gets the worm." Had you come to the party before comment 210, you would have gotten the esteem of page rank 6 blog when your link was posted . . . no worries, it would still be a page rank 3 today.
Life goes on. The lovely, successful and outstanding experiences you brought are as successful and outstanding as they ever were. Thank you for coming to the party and for sharing parts of your life with all of us.
An incredible group of attendees brings an incredible list of gifts to share with you.
Don't forget the Good Blogs made an SOB widget!! Get the code for the SOB widget here.
I'm one lucky blogger to know all of you!
–ME "Liz" Strauss
Related
The Mic Is On: Happy 2nd Birthday to SOBs Everywhere!