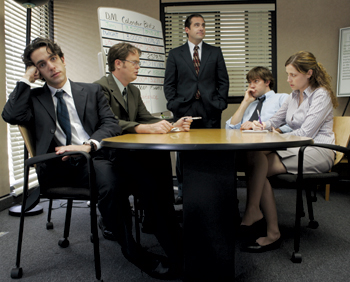 Company meetings serve a wide array of purposes. That being said, can too many meetings be a bad thing?
Having worked at several companies now over a 23-year period, I have seen a variety of approaches to this subject.
Some companies have had a normal approach to in-house meetings, some have had too few meetings, while others have gone overboard and seem to be meeting on an almost hourly basis, whether through onsite meetings or teleconferencing.
I've always tended to believe that falling somewhere in the middle of the above-mentioned descriptions is best.
On the one hand, it is important for your team to know what one another are doing; without occasional meetings that is hard to achieve. On the other hand, meeting too often always leads me to wonder how any work is getting done. Too many meetings can lead to micromanaging and a feeling among employees that their every move is being scripted and watched.
If you're not sure how often your company employees should be meeting to talk strategy, keep these things in mind:
What are you trying to accomplish with the meetings in the first place? – Are they held to share strategies, ideas, ask questions of where projects are going? If the answer is yes to any of those things, then by all means meet. If the answer is no to one or more of those things, then you need to rethink why you're getting staff together;
Where does real productivity rank in your company? – While meetings can certainly be productive, they also pull employees away from the tasks they were hired to do in the first place. If you're team is having to get together on a daily basis to meet even for half an hour, think about the loss of actual productivity time that half hour means to you and your business. I once worked for a company that required its writing team to meet on a daily basis. In lots of the meetings, we repeated what we said the previous day as far as updating our status on projects. In the meantime, I and some others sat there and thought about the wasted time going by when we could have been producing another article, conducting interviews, reaching out to new clients on the phone etc.;
Are we getting the same message over and over again? – Another risk factor with having too many meetings is that you will turn off some of your brighter employees. Going over the same message over and over again begins to lead to some tuning out both the message and the messenger. Let's be honest, some company folks like to hear themselves talk. While that may be great for them, those listening are sitting there thinking about all the real work they could be getting done while listening to something they heard just a week ago. Constructive meetings are one thing, sitting there listening to lectures over and over again are another;
Are we stifling openness among employees? – If you're having too many meetings, you may not even know it. In most offices, employees are not going to raise their hands when polled to respond yes if the company is meeting too often. For most employees, such a move in their minds would rock the boat, painting them as an uncaring employee. In reality, a good office culture is one where openness and the ability to speak one's mind should be promoted. Without the ability to speak one's mind in a professional and courteous manner, you are fostering a dictatorship at work, where one and only one voice is heard. Be bold and ask your entire team if they feel the company meets too often. If the answer is yes, take the time to think about how less meeting time can translate into more production time.
At the end of the day, each company and its management must decide what is in its best interests.
In my 20+ years of employment nationwide, I have yet to see the perfect meeting environment.
In the meantime, I'm going to meet with myself and see if I can come up with some solutions for this issue.
Photo credit: Markdenham.com
Dave Thomas, who covers topics such as starting a small business, writes extensively for Business.com, an online resource destination for businesses of all sizes to research, find, and compare the products and services they need to run their businesses.