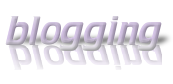 Last week, I had two doctor's appointments, one at my new gynecologist and one at my new ophthalmologist. Both of these visits had a common thread.
At each, my physicians made small talk with me. I told them about my 3-year-old daughter and my love for family. Both asked what my job was, and I don't know if they're required to ask about this (I did have to fill it out in the paperwork), or if they were genuinely interested.
Nonetheless, my simple answer was: "I'm a freelance writer." That statement raised their eyebrows, and they asked what I wrote. For simplicity's sake, I told them I wrote for businesses on the Internet as well as for an online magazine. I also highlighted my history, explaining that I previously wrote for the local newspaper.
Interestingly, they both responded by asking an identical question. "What do you like to write about?"
I said that my favorite writing topic is family-related because my family is my life.
Talk in the real world
I haven't been running my blogging business for a long time, and I have a confession to make. I have felt much more comfortable talking about my business behind the computer screen, rather than face-to-face, even if those faces were familiar ones.
But as I talked about my love for writing with my doctors, I learned something that I've read over and over again in blog after blog: Talk about your business in the real world. Yeah, when we have access to the entire world, it's easy to forget about the people in our own town.
I read a blog post a while back (I wish I could find it!) that made an interesting point. The blogger said if you are a professional blogger for businesses, you should not neglect your local area. You could be the only one in your entire city.
Of the 20,000 people in my city, I only know one other professional blogger, and she's my associate. Think about your area. What is your niche? You too might be the only person in your region offering the information in your blog.
Talk to the community
So I started brainstorming some ways to get my name known in my city. I used to be community editor for the newspaper, and I covered many club and organization meetings. These meetings oftentimes included guest speakers who not only shared useful information, but also gave out materials on their occupation/business.
I realized that several business professionals attended these meetings, and I could reach these individuals by volunteering to speak. Most of these meetings, like Kiwanis or Rotary, are covered in the newspaper. Can you see the free publicity that has the potential to reach a broad audience?
My goal is to speak for at least one meeting by the end of the year. If I get a lead, great. But my real objective is to get people talking about my blog and what I do.
Talk to familiar faces
I previously mentioned how I've been more comfortable speaking about my blogging virtually, rather than face-to-face. My other goal is to talk about blogging to my family and friends. It might not seem much like a goal, but several of my family members and friends aren't aware of my blog.
Do your relatives and acquaintances know you have a blog? If they aren't, why don't you mention it? Be careful not to give your brother a sales pitch. Be casual. Be conversational.
If you want more traffic to your blog, and we all do, start talking in the real world. Those people own computers, too!
Who do/will you talk to about your blog? 
—-
Terez Howard operates TheWriteBloggers, a professional blogging service which builds clients' authority status and net visibility. She regularly blogs at Freelance Writing Mamas . You'll find her on Twitter @thewriteblogger
Thanks, Terez!
–ME "Liz" Strauss
Work with Liz on your business!!
I'm a proud affiliate of