Todd Hoskins Reviews Tools for Small Business
Todd Hoskins chooses and uses tools and products that could belong in a small business toolkit. He'll be checking out how useful they are to folks who would be their customers in a form that's consistent and relevant.
Cool Tool Review: GiveForward & ChipIn
A Review by Todd Hoskins
It's difficult to ask for money. Whether it's making a pitch to an investor, raising funds for a cause, or getting through a personal financial crisis, it's uncomfortable and humbling to look someone in the eye with open hands and say, "Please."
I missed out on a class trip to England years ago because I couldn't sell enough pizza discount cards. Door-to-door pleading was not as effective as I hoped, so I went to school while my schoolmates went to Buckingham Palace. Lesson learned. Money is more easily earned.
Thank you, Tim Berners-Lee for the Internet, which in addition to providing knowledge, community, and a living for many of us, the WWW makes fundraising a whole lot simpler.
There are two primary reasons a business would want to raise funds online. First, as an alternative to sourcing angel investments. Grandpa and your rich friend Gretchen could indeed be angels, giving you the head start to get a business up and running, or reach the next phase of growth. In the world of peer-to-peer financing, Prosper has been democratizing business investments for over four years now. If you have friends and family who support your initiative, why not avoid the cost and hassle of interest rates and term sheets?
The second reason a business would get into fundraising is to bring awareness and money to a cause. It's a good business practice (and human practice) to be charitable. Donating time and/or funds to a community development project, for example, ties a business to the community. It's also appropriate to announce, "We care about this. Want to help?"
There are two tools I recommend that can help you ask for help. GiveForward and ChipIn are both simple and inexpensive, serving slightly different purposes.
GiveForward features a page. ChipIn features a widget. If you need to tell a story, make a case, provide some background, and allow comments, then GiveForward is the right choice. If you're hoping to receive single donations in the hundreds or thousands of dollars, GiveForward is going to provide more peace of mind to the donor.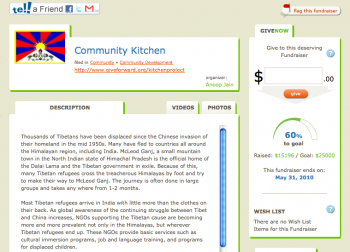 ChipIn is better used for "crowdfunding," encouraging your reader base or network to chip in a few dollars. It works with PayPal. The widget is not pretty, but it's very visible on your blog or site.
Summing Up – Is it worth it?
Enterprise Value: 2/5 – some custom development would be appropriate for larger businesses
Entrepreneur Value: 3/5 – show your passion, whether it's for your business or a cause
Personal Value: 4/5 – for soliciting or researching donations, sites like GlobalGiving and GiveForward are important