A Weekly Series by Teresa Morrow
I'm Teresa Morrow, Founder of Key Business Partners, LLC and I work with authors by managing their book promotion and publicity. As part of my job I read a lot of books (I love to read anyway!).
This week I will be highlighting two books I found on the new release list in the category of Business and Investing on Amazon; 'Networking Is a Contact Sport: How Staying Connected and Serving Others Will Help You Grow Your Business, Expand Your Influence — or Even Land Your Next Job' by Joe Sweeney and 'It's Not Just Who You Know: Transform Your Life (and Your Organization) by Turning Colleagues and Contacts into Lasting, Genuine Relationships' by Tommy Spaulding
The books I discuss in the Social Media Book List Series will cover a range of topics such as social media, marketing, blogging, business, organization, career building, finance, networking, writing, self development and inspiration.
Networking Is a Contact Sport: How Staying Connected and Serving Others Will Help You Grow Your Business, Expand Your Influence — or Even Land Your Next Job'
by Joe Sweeney

"The concepts in Networking Is a Contact Sport have helped me in my post-Olympic years."
Bonnie Blair
Five-time Olympic Gold Medal Speed Skater
"Joe Sweeney's networking skills helped to significantly increase my off-the-field income."
Brett Favre
Three-time NFL MVP and Future NFL Hall of Famer
"When you think about it, life is all about relationships, both personal and professional ones. But relationships don't just happen by themselves. Many have to be pursued, and that's where Joe's book, Networking Is a Contact Sport, comes into play. A great read that proves that networking is hard work but well worth the while."
Bill Perez
Former CEO of S.C. Johnson & Son, Nike, Inc., and Wm. Wrigley Jr. Company
About the Book*:
How did Joe Sweeney…
…get Bob Costas to come to Milwaukee (in the middle of winter)?
…become the "wingman" to the archbishop of New York City?
…take Brett Favre's off-the-field income from $65,000 to more than $4 million?
The answer is simple. Networking.
Master networker Joe Sweeney shares his networking secrets from a long and successful career as a business owner, sports agent and executive and investment banking consultant. His first secret: master networkers are focused on giving, not getting.
With today's difficult economy and uncertain workplace, networking has never been more important. Sweeney's simple but effective 5/10/15 networking plan will give you a leg up in the current job market, help you stay employed, or, if you've been laid off, find your next job. The cliché that who you know is more important than what you know has never been truer. Sweeney illustrates his insights with dozens of helpful examples from his own life (along with a few fascinating insider sports stories).
With special sections on networking for women and minorities, insights into the usefulness (and handicaps) of social networking sites, how to get (and why you need) a wingman and profiles of other master networkers, Networking Is a Contact Sport is a practical and essential guide for anyone who wants to get ahead in today's economy.
About Joe Sweeney*:
Joe Sweeney is a businessman, entrepreneur, former sports agent, investment banker and author.
For 28 years, Joe has built a career by combining his love of business and his passion for sports. Joe brings an extensive background in hands-on business experience. Joe has owned and operated four manufacturing companies and has more than three decades experience in the business and sports worlds. Prior to acquiring an equity position in Corporate Financial Advisors, a middle-market investment banking firm, Joe founded and was president of SMG, a sports management firm that specializes in assisting and representing coaches and athletes including three-time MVP, Brett Favre. Joe was also president of the Wisconsin Sports Authority and serves or has served on 23 boards of directors.
Joe received his BA from St. Mary's College and his MBA from the University of Notre Dame.
He has used his 28 years of business experience as a master networker in the sports and business worlds.
You can purchase a copy of 'Networking is a Contact Sport' online at Amazon or on his website, Networking is a Contact Sport.
*courtesy of book website and Amazon
Another book on my Amazon Business and Investing list that I am looking forward to reading is 'It's Not Just Who You Know' by Tommy Spaulding.
It's Not Just Who You Know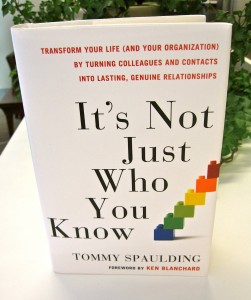 "Tommy masterfully illustrates case by case, person by person, that we're all in this together."
–Woody Johnson, owner of the New York Jets
"a valuable, reader-friendly guidebook for both business and personal living"
—Fort Worth Star-Telegram
Marshall Goldsmith is a world-renowned executive coach and author of the New York Times bestsellers, MOJO and What Got You Here Won't Get You There. Read his review of It's Not Just Who You Know:
To be successful today, leaders need more than an impressive title and superficial "friends" in high places. They need to be able to do some basic things–build partnerships, share leadership, and develop and empower people–-to name just a critical few. The challenge is that none of these are possible if people don't trust or believe in their leaders. That's where this new book, It's Not Just Who You Know, fills an important gap in leadership education. In it, Tommy Spaulding hits on the important issue of building and sustaining relationships–-real relationships, authentic relationships as opposed to those less genuine, selfish relationships that do not build morale in the organization or trust between people. Tommy's is a great book because he doesn't just tell you that relationships are important, he tells you why, and he tells you how to practice building them. If you pick up one book today, let it be this one. You'll be glad you did!
About the Book*:
In It's Not Just Who You Know, Tommy Spaulding — the former CEO of Up with People — has written the new How to Win Friends & Influence People for the twenty-first century. Success — in business and in life — is all about relationships. In this powerful guide, Spaulding takes Dale Carnegie's classic philosophy to the next level, showing how, by developing deeper relationships through giving to others and putting them first, we benefit as well.
Among the insights Tommy discusses in the book:
* It's not just who you know, or what they can do for you, but what you can do for them.
* Motives matter.
* Establishing a deeper connection is about authenticity, not manipulation; reciprocity, not selfishness.
* Every relationship is a two-way street; we never know when a chance encounter can change the direction of our lives.
In the bestselling tradition of Dale Carnegie's classic, It's Not Just Who You Knowshows how each one of us can use the power of "netgiving" — of helping others — to expand our worlds and achieve our goals, and make a difference in our jobs, our careers, and our communities.
About Tommy Spaulding*:
Tommy Spaulding is president of the Spaulding Companies LLC (www.SpauldingCompanies.com), a national leadership development, consulting, coaching, and speaking organization. Spaulding rose to become the youngest president and CEO of the world-renowned leadership organization, Up with People (2005-2008). In 2000, Tommy Spaulding founded Leader's Challenge, which grew to become the largest high school civic and leadership program in the state of Colorado. He is also the founder & president of the Spaulding Leadership Institute (www.SpauldingLeadershipInstitute.org), a non-profit leadership development organization which runs National Leadership Academy, a national high school summer leadership academy, as well as Kid's Challenge, Global Challenge and Colorado Close-Up.
Previously, Spaulding was the Business Partner Sales Manager at IBM/Lotus Development and a member of the Japan Exchange and Teaching (JET) program.
Spaulding received a BA in Political Science from East Carolina University (1992); an MBA from Bond University in Australia (1998), where he was a Rotary Ambassadorial Scholar; and an MA in Non-Profit Management from Regis University (2005), where he was a Colorado Trust Fellow. In 2007, Spaulding received an Honorary PhD in Humanities from the Art Institute of Colorado. In 2002, he received the Denver Business Journal's "Forty under 40 Award."
In 2006, Spaulding was awarded East Carolina University's "Outstanding Alumni Award," the highest distinction awarded to an alumnus of the university. Spaulding is the Chairman of East Carolina University's External Leadership Advisory Board and is the university's first "Leader in Residence."
A world-renowned speaker on leadership, Spaulding has spoken to hundreds of organizations, schools, and corporations around the globe. His inspiring book about how to create relationships that make a difference, It's Not Just Who You Know, will be published by Random House in August, 2010. He and his family reside in the Denver metropolitan area.
*courtesy of book website and Amazon
You can purchase a copy of 'It's Not Just Who You Know' on Amazon or on his website, Tommy Spaulding.
I truly hope you will check out these books and please comment and let me know your thoughts on them.