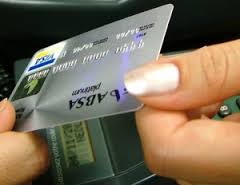 What are some of the key challenges for business owners in 2014?
If you ask that question of such people, they're likely to tell you attaining and retaining customers can be one of the trickier tasks when running a business.
Face it, many consumers in today's economic climate have to make tough choices about where they're going to shop, when they can afford to shop, and of course how much money they can afford to spend.
As a business owner, you can encourage consumers to come deal with you by making the shopping experience as friendly and easy as possible.
Credit Cards and Customers
One way to make the shopping trip easier for customers is by having the right credit card provider available to them to charge purchases.
Whether they make a charge in your place of business, over the phone or through online avenues, a simple and effective credit card option will help keep shoppers coming back.
"More shoppers want a quick and easy shopping experience, especially when online," said Chris Mettler of CompareCards.com. "Having the right credit card options for them makes things better for everyone involved in the sales process."
According to a report from Javelin Strategy & Research, in just three years, it is expected that less than 25 percent of all point-of-sales acquisitions will be made with cash. The translation – more than 75 percent of all purchases by consumers will be made via credit and debit cards.
As a business owner, it behooves you to make sure that your credit card or cards of choice offer you affordable rates and quality customer service. When that happens, you will open the door to more consumers shopping with you via credit cards.
Finding the Right Card or Cards
Many business owners will offer a number of credit card options to their customers, with Visa, MasterCard and Discover Card the typical choices.
In order for the business owner who is either setting up shop for the first time or going from just accepting cash and perhaps checks to credit card purchases to locate the best cards, it is important for them to do some research.
Take the time to visit different card provider websites, seeing which offer the best rates and customer service.
If you're looking to move away from a high balance that you might have accrued over time, you can look at which providers offer the best savings when it comes to interest payments when transferring a high interest balance over to a 0% interest credit card.
Lastly, take the time when selecting a card provider as if you are a consumer, because in fact, you are.
Put the offers side-by-side to see which provider gives you the most rewards, best interest rate, and cost savings.
When you align your business with the right credit card provider, take credit for making a wise choice.
Photo credit: qbservices.net
About the Author: Dave Thomas covers small business, social media and SEO topics for a variety of websites.