A Weekly Series by Teresa Morrow
I'm Teresa Morrow, Founder of Key Business Partners, LLC and I work with authors to help manage their online book promotion. As part of my job I read a lot of books (I love to read anyway!).
This week I will be highlighting one book written by an author I am working with "#COACHINGtweet' by Sterling Lanier and the other book I have on my reading list, 'Twitter for Dummies' by Laura Fitton, Michael Gruen and Leslie Poston. The books I discuss in the Social Media Book List Series will cover a range of topics such as social media, marketing, blogging, business, organization, career building, networking, writing, self development and inspiration.
'#COACHINGtweet: 140 Bite Sized Insights on making a difference through coaching'
by Sterling Lanier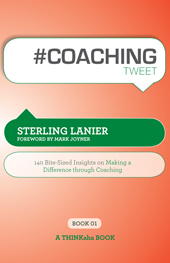 "When you have strong passion for "WHY," "HOW" emerges clearly from the shadows."
Now this was stated in the book under a label called, Being a Coach, even before the first tweet…and you know, it is so true. Think about it…if there is a positive reason why you wish to do something, the next thing that pops into your head will be, how will I do it?
Here are a few more powerful tweets from '#COACHINGtweet' I would like to share with you:
#4 A great coach has a huge heart, enormous ears, and a tiny mouth.
—>I love this because it is so true and it goes right along with the next week I highlighted.
#14 Listen like you want to be listened to.
—> This can be easier stated than done, right? However, it can make such a difference in your life with those around you.
#28 "Neuroscientists tell us that people do not resist change. They resist what they perceive as a threat to what they know."
—–>I agree with this as well. I am currently struggling with a deadline my publisher has set for me to write my book in about 3 months. Now, I asked myself, why do you wish to do this? I wish to write the book because I believe it will help other people. So then the how comes up. And I have questioned if I should attempt to do this because it is a change for me. But I can do it if I just put my mind to it and get it doen. However, the fear comes into places because I am fearing what I don't know….can I really do it? Sure I can. I just don't need to focus on the fear of not getting it done. Just focus on the getting it done.
#48 Wake up. Dress up. Show up.
—>You have already started a great day. So don't allow it to go to waste by not doing anything. Get dressed and show up to your day.
About the Book:
Mentor…teacher…guide…friend…a coach is all of these, and more. Sterling Lanier, author of '#COACHING tweet', has decades of experience coaching CEOs and CEOs-in-the-wings, and knows that coaching is no secret or magical process. Rather it is the art of inspiring, encouraging and motivating people through active listening, by asking thoughtful and thought-provoking questions and helping to set ambitious but realistic goals and action plans. It is a journey of self discovery, as much for the coach as for the person being coached.
In the corporate world, a typical 'coaching' session consists of an annual manager or supervisor soliloquy in which the employee receives 'a mound of criticism sandwiched between two thin slices of praise.' Instead, as Sterling shares with us, coaching should consist of a series of frequent dialogs between employee and manager on the employee's goals, action plans, measurement milestones, alignment to corporate direction, and resources needed for improvement.
In '#COACHING tweet', Sterling has distilled his practical experience into bite-sized insights on the power, practices and sheer joy of coaching. Individual sections cover coaching philosophy–coaching from the heart and being fully present in the moment–and coaching practices, which reveal the tools of the trade, including such subtleties as ensuring non-judgmental listening and peeling back the layers so that clients voice the hidden issues.

About the Author:
Sterling Lanier is a CEO Group Chair for Vistage International, the world's leading CEO membership
organization. He helps CEOs become better leaders, make better decisions, and achieve better results through leading monthly meetings, peer group interactions, individual coaching sessions, and expert speaker workshops. Sterling has more than thirty years of CEO leadership and management accomplishments in specialty retailing, manufacturing, software, and fi nancial services. Sterling became a Vistage Chair in 2000 and leads three Vistage groups. Sterling is the author of 'Eating Your Way Through Tuscany & Umbria' and 'Storie Italiane: A Student Reader with Parallel English Text.'
You can purchase a copy of '#COACHINGtweet' online at ThinkAha Books.
*I have received a complimentary copy of #COACHINGtweet by the author as this book mention is part of a virtual book tour I am conducting. However, my comments (highlighted by —>) are my own solely and I have not gotten compensated for those.
A book on my reading list that I have not had the pleasure to read yet is, 'Twitter for Dummies' by Laura Fitton, Michael Gruen and Leslie Poston.
Twitter for Dummies
by Laura Fitton, Michael Gruen and Leslie Poston
About the Book:
A fully updated guide to the how and why of using Twitter
The fastest-growing social network utility sports new features, and they're all covered in this how-to guide from a leading Twitter marketing consultant. Nearly 20 million people are tweeting on Twitter, and this book shows you how to join them and why you should. You'll learn the nuts and bolts of using Twitter, how to make good connections, and how it can benefit your life and your business.
* Twitter is the fastest-growing of the social networking tools; this book gets you up to speed on the basics as well as how Twitter can enrich your life and boost your business
* Explains how to sign up, find friends and people you want to follow, make the most of shortcuts, use popular Twitter tools, and Twitter on the go
* Discusses how Twitter can be used for business, fundraising, and maintaining contact with people who share common goals
About the Author(s):
Laura Fitton: Laura "@Pistachio" Fitton is leading the charge of sussing out intelligent and productive business uses of emergent technologies like Twitter, where she is read by thousands of community members. The fi rst to publish a white paper on "Enterprise Microsharing" (popularly called "Internal Twitter"), she also writes for and runs the TouchBase blog and is an early beta tester of Seesmic and Qik. She relaunched Pistachio Consulting in September 2008 to connect businesses to new ideas and innovations using all the tools of microsharing. Pistachio comprises the TouchBase blog (covering business use of microsharing), the TouchBase Link Blog (stream of Twitter and microsharing articles for businesspeople, wherever they are published), and serves clients like Johnson & Johnson, Ford Motor Corporation, PeopleBrowsr, The Sister Project, Transplant-1, and CommuNteligence.
Michael E. Gruen: Michael E. Gruen has earned signifi cant respect in the corporate sphere and within the startup community as a trusted advisor since 2003. In many cases, he has fulfi lled the role of interim Chief Operations/Chief Technical Officer with several organizations in need of innovative leadership during crucial developmental periods. In 2006–2007, Michael briefl y joined Morgan Stanley as an Analyst. Currently, Michael is CFO/COO at NOM, a Digital Services Agency, and the CEO of a new healthcare startup.
Leslie Poston: Leslie Poston is passionate about helping people and businesses fi nd their way to success via technology. As a writer, she has more than 200 ebooks and books in her repertoire and several more in development.
*this information was provided by Amazon
You can purchase a copy of 'Twitter for Dummies' online at Amazon website.
I truly hope you will check out these books and please comment and let me know your thoughts on them.