Todd Hoskins chooses and uses tools and products that could belong in an entrepreneurial business toolkit. He'll be checking out how useful they are to folks who would be their customers in a form that's consistent and relevant.
Cool Tool Review: Wazala
A Review by Todd Hoskins
A few years ago, small companies were constantly complaining about the eCommerce divide – the cost and headache of setting up an online store, collecting product images, managing transactions, and the dreaded shopping cart was separating the haves from the have-nots.
Wazala, formerly Vendr, allows anyone to be in the "have" category. It's a huge breakthrough for small companies that have hard goods or digital goods to sell, but don't have the resources for NetSuite. The technology has been there (Volusion comes to mind), with plenty of "turnkey" solutions.
The difference with Wazala is that it is a pop-up store, a store within your site. You don't need a new domain or designer, or additional software. With copied and pasted code, I had a store on my WordPress blog in less than 10 minutes.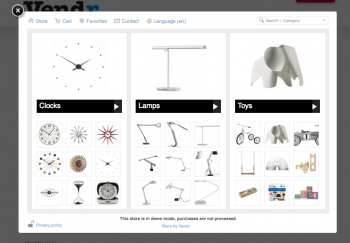 Costs range from free (up to 5 products) to $30/month for up to 250 products. Inventory tracking, product categorization, search, coupons, and discount codes are available for larger stores, along with integration for bookkeeping and fulfillment. Payments can be processed through PayPal or Google Checkout for all stores.
The one missing element is integration with affiliate programs, which is reportedly being developed. For now, if you run a successful blog or are a small to medium sized company, Wazala is a super, simple service if you have your own products to sell.
Summing Up – Is it worth it?
Enterprise Value: 2/5 – Sell direct and have just a few products? Then, yes.
Entrepreneur Value: 4/5 – 15 day trial gets you into eCommerce
Personal Value: 2/5 – Try selling your knitted cardigans on your blog. Why not?
Let me know what you think!
Todd Hoskins helps small and medium sized businesses plan for the future, and execute in the present. With a background in sales, marketing, and technology, he works with executives to help create thriving organizations through developing and clarifying values, strategies, and tactics. You can learn more at VisualCV, or contact him on Twitter.