Meeting Henry VIII and the Dean of the College
On our return to London Thursday, we took a bus tour through the city. I'm not much of a tourist, but with my son along, asking questions I managed to take in some history. George the 2nd (or was it the 3rd?) died on the toilet. The area down by Westminster Abbey is by far the most beautiful.
We saw the movie, "The Other Boleyn Girl" in Leicester Square later that night.
On Friday I took the tube down to Elephant and Castle to meet with Sue Pandit, the Dean of the London College of Communication. (Diane Keaton will play her in the movie.) She explained that their history as the London College of Printing was still thriving the print shop that still offers students one-color, two-color, and four-color presses as well as digital printing to produce magazines as well as surface printing, such as fashion design.
As Sue and I talked about the social web, I mentioned that conversations and relationships are happening underneath the surface of the Internet. She mentioned that, like so many, she tended to read the blogs of people in her industry, but only the blog posts not the comments that followed. I could see her become intrigued with what she might be missing.
Later in our discussion, Sue invited Chris Linford, a senior professor and lecturer to join us. When he walked in he mentioned that he knew my blog. During our conversation, Chris said that each semester his first job is getting students over fear of html. Most of the students at the college who blog use WordPress 2.3. When I asked about WordPress 2.5, Chris said, "Our IT guys won't let us use anything in Beta." He also said they use Wimba.
Meeting Henry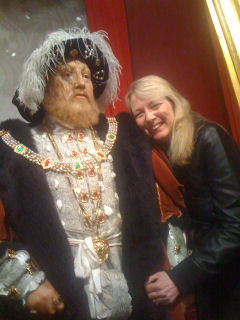 It just wouldn't be right to visit London and not take my son to Madame Tussauds House of Wax. We went Friday afternoon. It's there I met Henry.
A third university and picture with a king. (Do you think he'll call?) Not a bad day.
The question of the day was: What place do you think print will have in future communications?
How would you answer that one?
More to come about UK universities. [Check back for my answer yesterday's question from at Oxford. now.]
–ME "Liz" Strauss
Work with Liz!!