Brand New Today
Social business has left the world of broadcasting to enter the world of making customers into heroes and celebrities. Every chance we get to bring them together and allow them to shine, shines well on our business too.
Our customers are the fuel that lead our businesses to thrive. Why not give them some traction and support by letting the world know what they mean to our success?
One easy way to do that is choosing great tools from those the social web supplies.
Meet Cooliris and Make Social Heroes
Cooliris , innovator of the fastest and most stunning way to browse photos and videos from desktops or mobile devices, today announced Cooliris Express, a free tool that lets non-technical users create compelling digital experiences that showcase their photo and video content.
With Cooliris Express users can easily build and share fully customizable, cohesive, and immersive walls of photos and videos – not just a single photo or album – to websites, social networks, and blogs.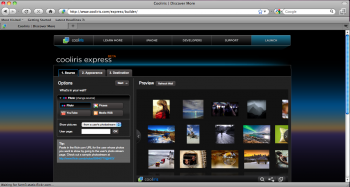 Customized Media Walls in Seconds
Cooliris makes it easy for users to get started creating custom galleries by providing a simple to understand, intuitive, step-by-step wizard that walks them through the gallery building and posting process. First it prompts them to locate their personal media-rich content, then it provides options for where the content will be viewable, and finally with just one-click post they are able to share their custom galleries to the world, or just to their friends.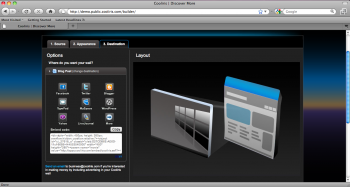 A typical use case to share rich media involves selecting content from Flickr. So I'm making a Flickr Set from SOBCon09. I've been playing with it to see how I might include some SOBCon09 heroes in my blog …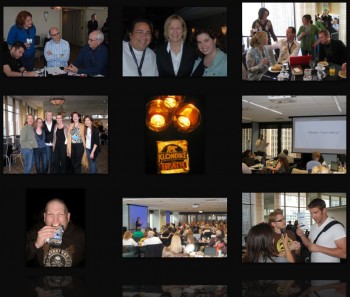 I couldn't find a way to fully integrate it yet, but I hear that's coming … meanwhile, click on the screenshot above to see more.
Leaves ME Feeling like not such a Hero
Another compelling feature is that the Cooliris Express galleries are dynamic. Once you create and post a gallery you can update it at the content source (ie: YouTube or Flickr) and the galleries you have posted to your blog or social media sites will be automatically updated with no additional steps required from the end-user.
Express works across the web
Incorporating Gigya social media technology, Express supports social media sites and blogs include: Twitter, Facebook, WordPress, TypePad, Netvibes, Yahoo, Hi5 and Orkut.
In addition to social media sites and blogs, Cooliris Express also allows uss to intntegrate the Cooliris Wall into their person websitetes. Instead of selecting a social media location, the user would select a personal site and the tool automatically generates the code they need to copy and paste into their page for the Cooliris Wall to appear.
Hold , cowboy! I have to go somewhere else to make it work on my blog? Not cool.
I just spent more time than I had trying to make this work.
You didn't make that clear in the demo. This program has power and I can't wait to learn more about how to get it into my blog!
Thanks to Matt from Cool Iris who brought me the directions on how to make the rest happen.
See part two of this post …
–ME "Liz" Strauss
Work with Liz on your business!!
I'm a proud affiliate of