It's Hard to Shine in a Black Hole
I like sky. It gives me perspective. I think of the stars and how even the tiniest of them shines. It's their nature to do that. They don't worry or question whether the star to them is brighter, bigger, or doing something they should be doing.
It's true. We're made of the same stuff as stars.
When we're true to ourselves, we shine like the stars do. We're focused. We move with what's inside and what's true.
When we're too involved in what folks are thinking and doing, it throws us off. Trying to keep up with other folks thoughts and feelings is impossible and overwhelming. It skews us. It changes our vision. We see inconsequential actions as huge events.
We put the "self" in self doubt.
That throws our whole universe into chaos.
You see, the universe isn't meant to revolve around us.
The Black Hole
The black hole — a negative funk and flat out of energy.
We're riding high, making dreams, and seeing the future bend to our wishes. Then something changes things. We lose a job, leave a lover, get sick, get scared, or work our way into mess and can't find our way out. We're disconnected from everything, including ourselves.
We try to reason, but we argue for why we're stuck. We can name every part of the problem that's outside of us. We close our eyes to anything that will help. We make the black hole even darker.
It's hard to shine in a black hole.
What Makes Staying in a Black Hole So Appealing?
I know. I've been there. Here's what I know –> Getting out can seem hard. Staying can seem safe. Yet, as comfortable as holing away can be — black holes don't let the light in.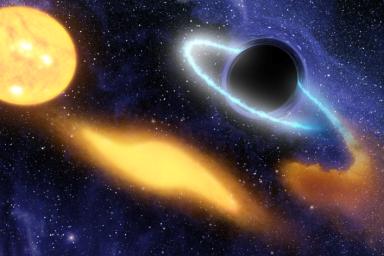 Hiding in a black hole of self-doubt, has its appeal. Black holes keep us from facing these challenges and realities …
that folks might discount the dimensions of our devastation.
that we own part of the situation.
that we have control to change things.
that we'll have to let people watch us learning.
we have to lay down our pain, our embarassment, and give again.
Ben Franklin said, "Things that hurt, instruct."
And people and stars are made of the same stuff.
But hanging in black hole is stressful, boring, and unattractive. It makes us negative and unhappy. When we're unhappy enough, those challenges won't be such a burden. We'll blast out all at once, because we're hungry for direction, energy, and hope.
Blasting out of a black hole is a decision. Here's how to execute once you find a black hole of self-doubt isn't a place worth being.
Open your eyes and tell yourself off. Let the light in. You get to decide how happy you'll be. Own your life.

---

Do something for someone. Be generous. Get out of the center of your universe and back into orbit. You'll lighten up.

---

Make promises to the person you are AND keep them. Prove your integrity to yourself. Everyone else will see that shine through.

---

Find out what other folks can teach you. Learn why someone cares about something you find insignificant. Learn how to say what you feel.

---

Change your mind. Quit problem thinking. Argue for solutions. Align your goals with the the people you trust.

---

Listen with your whole being. Listen for what people are not saying. Listen to what your actions are saying. Learn to laugh when you hear yourself whine.

---

Make a small child smile. You were a child once. You know how.

---
A wise person once told me that change is the only constant. If we know nothing lasts we don't attach too tightly. We value ideas and people. When we shine, it lets others know they can shine too.
Shine like the star you are. We need your light.
How do you shine your way out of self-doubt?
–ME "Liz" Strauss
Related
The Top 10 Ways to Start Living Your Life
7 Reasons and Ways to Leave the Center of the Universe to Come Back to Us Again
Shine in a roomful of stars!